Pokemon 4Ever

Best Friends, Better Heroes.
We've put together several news Reports from various dates about this 4th Pokemon Movie, released in the US in end-2002.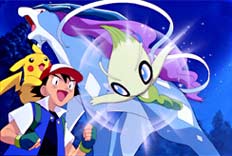 Sunday 6.30.02 The fourth Pokémon movie, Pokémon 4Ever, will debut in theaters in the Fall of 2002. In it, you'll take a wild ride with Ash, Pikachu, Suicune, and the time-traveling Celebi on their most important mission ever - protecting Nature and saving the world! To make things even more interesting, Miramax Films , Pokémon USA, and Wizards of the Coast are working together on a special one-of-a-kind offer that will distribute thousands of a new limited edition Celebi Pokémon Card-e to Pokémon fans attending the movie (while supplies last). ~ Pokemon.com
Friday 4.5.02 LOS ANGELES (AP) - Miramax Films has acquired the distribution rights to the next two "Pokemon" movie sequels, both in North America and internationally outside of Asia. The movie company, which is owned by the Walt Disney Co., completed the deal late Tuesday but no financial details were disclosed. A source close to the negotiations told the Los Angeles Times that Miramax paid $1 million up front and promised the rights holders a 75 percent share on back-end profits. The deal gives Miramax the theatrical, home-video and television distribution rights, and the option of releasing future "Pokemon" films. Warner Bros. had the distribution rights to the first three "Pokemon" movies, which grossed more than $145 million domestically, and was bidding for the fourth and fifth installments. It still controls the rights to two "Pokemon" television series airing on the Kids WB! Network. Miramax negotiated the deal with Pokemon USA Inc., the brand management licensing subsidiary of the Japanese consortium that owns the "Pokemon" franchise. All the "Pokemon" cartoons are produced in Japan. The frenzy over the animated, warring monsters has subsided in recent years. The first "Pokemon" movie released in 1999 grossed more than $85 million in the United States, but the last film only tallied $17 million. Miramax co-chairman Harvey Weinstein said the company will reinvigorate the "Pokemon" franchise, using the company's marketing savvy. "We'll come up with a bolder, smarter marketing campaign," he said. "For us, this is a big fish and a valuable brand."
Miramax plans to release "Pokemon 4" in October.
Sunday 7.8.01 .Poke-maniacs, rejoice! There will be a fourth Pokemon movie released in Japan in summer 2002. According to Glenn Kardy at Japanime.com, a 15-second trailer for the next big-screen installment in the Pokemon saga was shown following the premiere screening of the fourth movie—"Celebi: A Timeless Encounter"—which set box-office records this weekend in Japan. Despite rumors that "Celebi" might be the final movie in the series, the producers have proven everyone wrong. "Pokemon is alive and well in Japan," Glenn said. "In fact, thanks to the new movie, I think Pokemon is going to be more popular this summer than ever before.
The plot of 'Celebi' is geared toward audiences both young and old, which strengthens the appeal of Pokemon. There are scenes in the movie that will blow you away." Glenn said that his favorite segments were those that combined of traditional one-dimensional animation with 3-D computer-generated graphics. Moviegoers who arrived early were given the limited-edition Kakureon promo card (featured here on Pojo.com last week). Preceding "Celebi" was the animated featurette "Pikachu no Kakurenbo" (Pikachu's Hide-and-Seek), in which several Pokemon participate a very unusual and humorous version of the childhood game. And theater patrons who hung out in the lobby after the movie ended were rewarded with another treat—packs of the all-new Pokemon VS cards were offered for sale two weeks ahead of the official release date. "All in all, it was a fantastic Poke-weekend," said Glenn.
7.06.01 The fourth Pokemon Movie -- Celebi: A Timeless Encounter -- opens Saturday in Japan, but it will be what is shown on the silver screen after the final credits roll that will most likely garner the most attention. That's when audiences are expected to learn whether there really will be a fifth Pokemon movie. Traditionally, a short trailer for the next big-screen installment in the series has been shown at the end of each movie. Following last year's screening of "Lord of the Unknown Tower," for example, audiences were treated to their first glimpse of "Celebi" in the form of a 15-second trailer. Our friend Glenn Kardy at Japanime.com will be among those in line for the 8 a.m. matinee screening at a Tokyo theater, and he promises to fill us in this weekend soon as he's had a chance to digest the wonders that he is about to witness. Stay tuned!
05.16.01 I found my way around pokemon2000.com (in Japanese) and found a pretty good trailer. Below are a bunch of screenshots of the trailer and a movie description (from what I understood in the trailer)

Celebi falls from the sky and a girl (ash's age) finds him/her. This girl takes care of it but then a mean man tries to steal it with his scyther. Celebi's eyes glow and it appears to escape. Later, a mountain spits fire at it ?!?!?! and Celebi makes a sheild around itself. Later in the forest Celebi blasts away a bunch of large pokemon (including Ursaring as pictured) Then I'm guessing it runs into Misty and Ash, because it heals Misty's leg, (In Pokemon G/S it has "Heal Bell" and "Recover" attacks) Then they show Ash, the girl, and Celebi flying in the sky and that's it.
(Also, Celebi is with Suicune for a while) - Thanks to dragonheadz of http://dragonheadz.tripod.com for the information!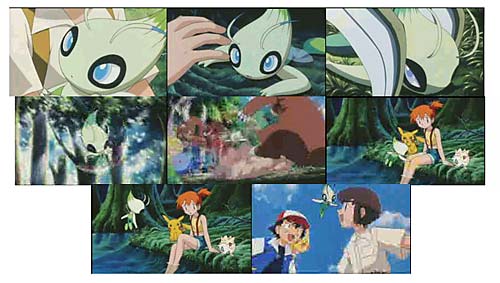 ----------------

05.21.01

I have more pics and info. The man pictured is the bad guy. He uses a strange spider-like machine to catch celebi (team rocket and ash and gang are chased by it a little) I also, have the mountain pictured like previously mentioned, and a pic of suicune and another pic of celebi in a orb and celbi with the scyther. dragonheadz of http://dragonheadz.tripod.com
| | |
| --- | --- |
| Saturday 05.12.01 Hot News From Japan! - Advance tickets to the fourth Pokemon movie—Celebi: A Timeless Encounter—went on sale in Japan this week. Although the movie won't make its premiere until July, the creators of Pokemon are sure that the latest flick will be just as popular as its three predecessors. As in the past, reserved tickets are available for both children and adults, with prices starting at $14--popcorn not included! Although there has been some speculation that "Celebi" will be the big-screen finale for Pokemon, don't count on it. Pikachu and the rest of the Poke-gang remain as popular as ever in Japan, and it's unlikely they'll be calling it quits any time soon. Thanks to our friends at Japanime.com for the information and ticket scan. | |
---------------------
| | |
| --- | --- |
| 7.24.00 While North America is going ga-ga over the second Pokemon movie, "Revelation: Lugia," people in Japan are already gearing up for the fourth flick! OK, so it won't be released until next summer. But Japanese moviegoers who stick around to watch the closing credits in the third Pokemon movie, "Lord of the Unknown Tower," are treated to a five-second preview of the fourth installment. While the title of the new flick is not yet been revealed, the preview does confirm what has been rumored for a couple of months now: the central character will be Serebii, the ultra-mysterious 251st Pokemon. Has Mew finally met its match? We'll have to wait till next summer to find out! Thanks to Glenn at Pocketmonsters.com for the information and scan. | |
------------------
12.09.00 HERE COMES POKEMON FOUR
Plans and a title for the fourth animated Pokemon movie were announced at a late-November press conference in Japan. The movie's title translates roughly as "The Encounter Which Exceeds Time." It will open across Japan July 7, 2001.
The Pokemon movie series was thought to be complete at four, but no one at the press conference was willing to say this would absolutely be the last Pokemon animated feature.
The fourth movie has been widely reported, first as a rumor and then as something more substantiated, to feature the mysterious Pokemon Serebii. The announced title of the movie seems to confirm Serebii's presence, and also hints at the sort of time-traveling plot that seems to wrap up many anime story arcs.
Is this the end of the line for our pocket monsters? We'll know for certain in July.

We will add more details on this movie as they become available.
---------------