Pokemon: Lord of the Unknown Tower
8.25.01 I bought the movie on video yesterday and watched it. So here it goes.

The movie starts out with a little girl (Molly Hale) looking at a book with her father, Professor Spencer Hale. The book had pictures of legendary Pokemon. Then there was a picture of Entei and Molly says to her
father that he's just like Entei. Big and strong, but sweet and caring as well. So Molly and her father play for a little while until he gets an E-mail from one of his colleagues. So with that, he leaves Molly and catches up with his colleague. Later, Professor Hale finds some little squares with lettered-shaped creatures in them. And vanishes mysteriously. Later on the, colleague goes to the Hale Mansion to tell the bad news to Molly. But the news crushed Molly. Later, she looks at the little squares and spells out "Mamma" and "Pappa". All of a sudden the Unown come to life and crystallize the Hale Mansion with Molly still inside. The Unown read her mind and bring Entei to life. Right away Molly recognizes Entei and calls him Pappa. The next scene starts with Ash Misty and Brock making their way to a playground. Right there, they meet a girl named Lisa. She challenges Ash to a battle and as always he accepts. Then Lisa and Ash battle a six on six pokemon battle.
After the battle, Ash, Misty, Brock , Lisa, and all their pokemon sit down and enjoy a nice lunch. Then Ash ask's Lisa if their's a pokemon center nearby. Lisa says that there's one on Greeenfield. So after lunch they all set off to Greenfield. When they got there, it was a shock to them. Most of Greenfield was cryslalized and the reason was still unknown. Iff you want to know the rest of the movie, rent it, or buy it. Laters for now from The #1 Pokefan - Firegodess49
Essentially, this movie is about a tower that traps people in a state of happiness, where they don't know that they're trapped... including our hero, Ash.

This movie was released in Japan in mid-1999. Here is a report from mid-June (prior to release). Tickets are already on sale in Japan for the third Pokemon movie, "Lord of the Unknown Tower," even though the movie doesn't open in Japanese theaters until the end of July. Glenn at PocketMonsters.com sent us this scan of the souvenir ticket, which features full-color artwork from the movie and the featurette "Pichu and Pikachu" that also will be shown in Japanese theaters. The ticket price of 1,800 yen—about $17--will probably cause sticker shock among North Americans who are used to paying no more than $8 to go the movies! But people who buy the tickets in advance also get a really cool packet of souvenirs, including a book with peel-away stickers of more than 200 Pokemon, a tiny metal Pichu pin and a Pichu cellular telephone strap. A TCG promo card will also be available to moviegoers.
(left) Here is a look at the Cover of the Japanese Video that went on sale in February 2001.

2.14.01 The third Pokemon movie, "Entei: Lord of the Unknown Tower," won't be shown in North America theaters until April, but kids in Japan are already enjoying the flick in the comfort of their homes. The movie was released on VHS video last week, and includes a special trailer featuring scenes from the upcoming fourth Pokemon movie, which will debut in Japanese theaters this summer. Television viewers in Japan also got to enjoy an original feature-length Pokemon movie a few weeks ago that some are calling the "sequel" to "Mewtwo Strikes Back." In that film, Giovanni tries to recapture Mewtwo while Ash and his pals are visiting the psychic Pokemon. No word yet on whether that movie will be available on home video or even translated for North American audiences. Thanks to Glenn at Pocketmonsters.com for the information and scan.
Here are some screen shots from this upcoming movie: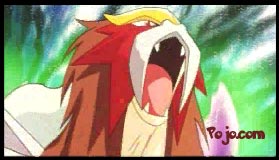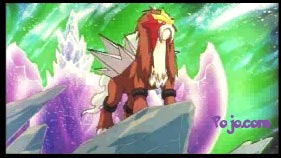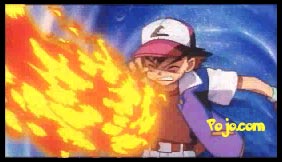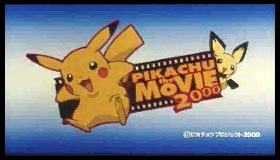 The short before the Movie features Pichu!