Pokemon Tournament Reports
Raichu88
City Championship Report Almere
Date : 1-21-2006
City : Almere
Because we had Random Rob's birthday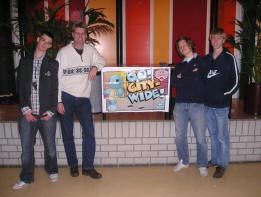 party in Amsterdam the night before I kinda woke up too late in the morning. I packed my stuff together slapt Kevin89 awake. So I left Rob's house without a breakfast and then Me, Kevin89, Random Rob and Magic Marcel drove off to the Tourney.
When I arrived the TO told me I had 10 min left until the Tourney started. So I gave a little friend of mine a Euro to write me decklist.
I didn't have any time to playtest so I went my Good Old MetaNite.
First Round Me vs Jimmy with Armaldo ex
Game 1
I Agility his Mawile 3 times for the Ko after that he throws up his Armaldo ex but I had a powered Lugia Ex for the Game.
Game 2
Read the first game.
1-0
Second Round Me vs Annemarie with Metanite
>_< Mirror lame hahaha. Anyway she plays Delta Rainbow energy and Copycat in her Metanite. Ah well we played and I started with a Celebi Ex >_<. I finally got a setup and KOed pretty much everything she has.
Game 2
We both have a decent setup but when I get my Metagrossen faster it's clear that I play a better list. And go trough her Pokemon like a storm trough a city.
2-0
Third Round Me vs Benjamin with Delta
Game 1
And don't have much of a setup so he Split Bombs my bench for the Game.
Game 2
We both have good starts and it really is evn trough the whole game until I searched trough my deck and realize that my last Dragonite and Candy are in my prizes.
2-1
Fourth Round Me vs Gawein with Saltaria
Game 1
I kept on getting Dragon Mist with a Altaria ex so I had to do 3 Delta Draws with 3 different Castform's. I finally got a setup to finally KO his Altaria Ex and his little Delta Altaria Ex was next when Lugia Ex did 400 damage.
Game 2
He got a upperhand in prizes but I retunred and took 2 with my Lugia Ex and a thirth with my Metagross after that the Judge calls time.
3-1
One more game and I'm in Top 4 >_< Sweet
Fifth Round Me vs Corne with Scizor Gross
I knew he played the deck he always does so I thank God and Florens for convincing me to tech in a Lugia Ex. We started playing we both a good starts but like I said I played Lugia ex.
Game 2
He got out 2 Scizor Ex wich I KO with Lugia Ex after that I killed Scyther and the Judge calls time.
4-1
I'm in the Top 4
Me vs Arco with Bancham
Yay Bancham……..
Bancham makes my Metanite cry in the pance. Anyway I win my first game cause I can setup my Lugia Ex to take the last 2 prizes.
Game 2
I get a Gligar UF + Strength Charm in my face :-( and Castform didn't like that.
Game 3
I get to KO a Banette Ex but he locks me deck completely after that with a Medicham.
4-2
For the Third and Fourth place I get to play another Mirror Match Yeah !
Me vs Martin with Metanite
Game 1
He get's a better setup he wins.
Game 2
I get a better setup I win.
Game 3
Read game 2
Sorry for this short and undetailed review I owe you one for the next time.
I going to lay down now I'm still recovering from the weekend part in Amsterdam.
Props:
Kevin for the fun in Amsterdam
Rob for the Driving and weekend fun
Florens for the Lugia Ex Tech and the Friday Night Fun
Getting a Flygon d Ex and a Rayquza d Ex out my prize packs
Playing a CC without a Causion
Me for going third place
Water !!
Slops:
Leon
Too many Metanite
The Train
Dennis Koks for no reason at all