Inuyasha Home Page
Inuyasha News
Message Board
Pojo's Books
Card Game
Card of the Day
TCG Tips
Tourney Reports
Top 10 Lists

Featured Writers
GoggleBoy

Anime
Character Biographies
DVD List
Episode Guide
Introduction


Video Games
Secret of the Cursed Mask Review

Contact Us

Magic
DBZ
Pokemon
Yu Yu Hakusho
NeoPets
HeroClix
Harry Potter
Anime
Vs. System
Megaman


Pojo's Inuyasha Site
Inuyasha: The Secret of the Cursed Mask
By Anna Gill
4.4.06
Here are my thoughts on the InuYasha video game: "The Secret of the Cursed Mask". I loved it! The graphics are pretty bad but the story is wonderful,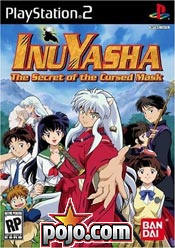 so it makes up for the graphics. The title is confusing because the game doesn't have much to do with a cursed mask. O_o

The story starts out in present day Japan when your character (boy or girl - you choose) somehow winds up in the feudal era (you don't find out why until the end of the game). Your character joins up with InuYasha and the rest of the team to find a way for you to get back home because you can't get back the way you came and you can't get back through the well like Kagome can. There is one person who might have something to do with you being called here though. A mysterious person named Utsugi.

The game play is standard Role-Playing-Game fare. You take turns in battle. As you're wandering Feudal Japan, you have random battles to raise your skill level. There are cities were events occur, and places to buy items and equipment as needed. The graphics are pretty much PS1-ish, even though this is a PS-2 game. The game isn't really too difficult. I only had to visit GameFaqs twice. ;-)
There are some anime cut-scenes, and all the voices are done by the character actors/actresses that do the voices here in the U.S. That's kind of cool too.

The game took me about 35 hours to beat. After you beat the game the first time, you can play again for an alternate character ending. If you are into InuYasha, I would definitely recommend this game for you. As someone that is very into InuYasha I'm going to rate this 4.5/5.0
I picked this game up for $19.95 new at GameStop. Definitely worth $20.

- Anna Gill

Copyrightę 1998-2005 pojo.com
This site is not sponsored, endorsed, or otherwise affiliated with any of the companies or products featured on this site. This is not an Official Site.