Wizards Press Release
<![if !supportEmptyParas]> <![endif]>
TRADING CARDS GO INTERACTIVE:  POKéMON®-e CARDS LEAD THE NEXT EVOLUTION IN MUST-HAVE TRADING CARD GAMES
<![if !supportEmptyParas]> <![endif]>
Innovative Technology Allows Players to "Swipe" Cards and Enter a New World of Pokémon
<![if !supportEmptyParas]> <![endif]>
<![if !supportEmptyParas]> <![endif]>
(Renton, Wash. Sept, 2002)—There was a time when opening up your trading cards to find gum was exciting.  Then, along came Wizards of the Coast (a subsidiary of Hasbro, Inc., NYSE: HAS) to make trading cards really fun by creating the trading card game (TCG) genre – and the Pokémon® TCG frenzy.  Now, in another act of sheer wizardry, Wizards of the Coast is leading the next evolution in trading card games with the launch of Pokémon-e cards.
Scheduled to hit store shelves in mid-September 2002, the first Pokémon-e card collection, Pokémon-e: Expedition™, will introduce a new generation o<![if !supportEmptyParas]>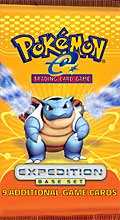 <![endif]>f cards to the more than 30 million fans and players of the Pokémon TCG worldwide.  Experienced and beginning players alike will enjoy Pokémon-e cards, which combine the fun of traditional trading card game play with the handheld technology of Nintendo's Game Boy® Advance and "Dot Code Technology" licensed by Olympus Optical Co., Ltd. 
<![if !supportEmptyParas]> <![endif]>
Paper or Plastic?
While you still have to make that always-confusing decision at supermarket checkout, with Pokémon-e cards, you get the best of both worlds!  The Pokémon-e TCG maintains playability with the popular paper trading card game format and will thrill players with exciting new art and new trainer cards, as well as all-time favorite Pokémon characters with new attacks and a new mechanic called Supporters designed to aid Pokémon and increase their health.  As if that wasn't enough, players will find one of the coveted foil cards they love in every booster pack and a random foil card in each theme deck. 
<![if !supportEmptyParas]> <![endif]>
Now for the plastic:  Pokémon-e cards are encoded with revolutionary Dot Code strips that are "swiped" (think credit card) into the new e-Reader™ attachment for Nintendo's Game Boy Advance.  With a flick of the wrist and a slide of the card, Pokémon-e card players will enter a new world of Pokémon, as TCG tips and strategies, sound effects, graphics and mini videogames are revealed on the Game Boy Advance screen.
<![if !supportEmptyParas]> <![endif]>
"The global Pokémon phenomenon is continuing, with strong sales for Pokémon TCG products and a new generation of players and collectors joining the millions of enfranchised fans," said Loren Greenwood, chief operating officer for Wizards of the Coast.  "Pokémon-e cards answer the consumer clamor for new ways to enjoy the Pokémon TCG and enhance the collectibility of Pokémon cards, making Pokémon game play more varied and fun than ever." 
<![if !supportEmptyParas]> <![endif]>
Beginning mid-September 2002, Pokémon-e: Expedition theme decks (MSRP $9.99) and booster packs (MSRP $3.29) will be available at retail outlets nationwide.  In addition, Pokémon fans can look for three Pokémon-e cards in a sample set packed with Nintendo's e-Reader (e-Reader MSRP $39.95) and also can obtain a special, limited edition Celebi promotional card when they attend the opening of Pokémon Movie 4, "Pokémon 4Ever,"on October 11, 2002 (at participating theaters only).  Additional Pokémon-e TCG releases are slated for late 2002 and early 2003.
<![if !supportEmptyParas]> <![endif]>
Since its U.S. launch in late 1998, Wizards of the Coast's Pokémon Trading Card Game (TCG) has taken the country – and the world – by storm.  The Pokémon TCG continues to be a bestseller, becoming one of the newest game "classics" for kids of all ages.  Much more than a game, the Pokémon TCG has created a community of dedicated fans and players, more than 100,000 of whom enjoy competing in organized leagues and tournaments in more than 40 countries around the globe each year.  In addition to the trading card game, the Pokémon phenomenon includes Nintendo's Game Boy® and N64® video cartridge games, the number-one–rated animated children's television program on the WB network, Pokémon Center retail store in New York City's Rockefeller Center, comic books and a vast assortment of toys.
Wizards of the Coast, Inc., a subsidiary of Hasbro, Inc. (NYSE:HAS), is the worldwide market share leader in the trading card game and tabletop role-playing game categories.  A leading developer and publisher of game-based entertainment products, the company holds an exclusive patent on the method of playing trading card games (TCGs) and produces the world's best-selling Pokémon® and Magic: The Gathering® TCGs.  Publisher of adventure games, family card and board games and electronic media products.  Wizards of the Coast is also one of the world's premier book publishers of fantasy series fiction whose novels have made numerous appearances on The New York Times best-seller list and have sold millions of copies worldwide.  For more information, visit the Wizards of the Coast® website at wizards.com.
Pokémon USA, Inc., the New York-based subsidiary of The Pokémon Company in Japan, manages and oversees the Pokémon franchise, including licensing, movies, T.V. animation and the Pokémon  Center, a multi-sensory retail destination in Rockefeller Center in New York City.
<![if !supportEmptyParas]> <![endif]>
<![if !supportEmptyParas]> <![endif]>