East Coast Super Trainer Showdown 2001 - Reports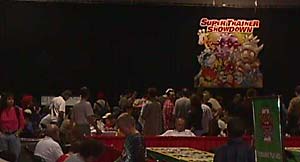 Hello,
I live in NJ and attended the STS, I finished with 4 wins and 3 losses before I decided to drop. I played with a Dark Alakazam deck with baby pokemon. The strategy was to evolve fast using "The Bosses Way" and "Teleport Blast" with Dark Alakazam and then bring out the baby and repeat.
The deck worked out well, after losing the first game, I won the next four before losing two more. I faced three Slowking decks (2W, 1L), one Blaine's Magmar (Lava Burst) deck (W), one Feraligatr deck (L), one Typhlosion deck (L), and surprisingly another deck like mine (W).
All in all, I had a great time. I came with my wife and two daughters who were there to support me and to have some fun. There were plenty of people, but there was also plenty of space. I hope that Wizards continues to have the Showdowns at the Meadowlands. Anyway here's the pics...Have a good day!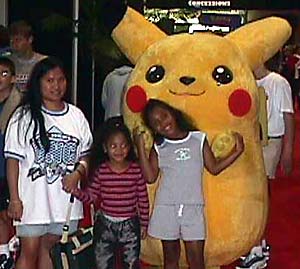 My wife and daughters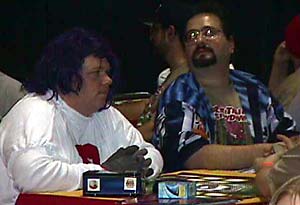 Someone in Rocket's costume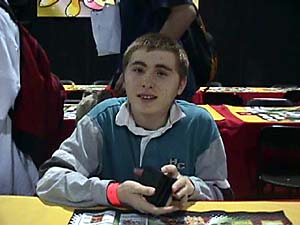 My first opponent and first loss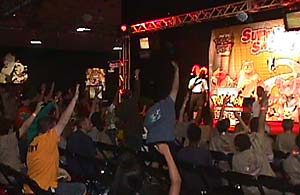 Pokemon trivia, winners won booster packs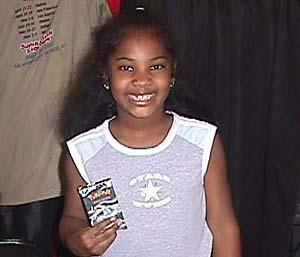 My daughter won a pack, it contained a holo Meganium!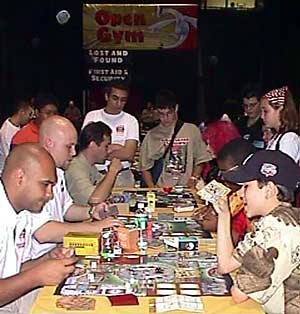 Take on the Master Trainers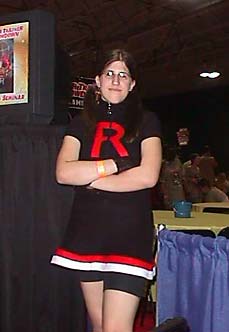 Prepare for Trouble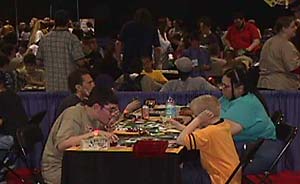 Play Areas
Ulysses Simpkins

simpkins5@msn.com
East Orange, NJ