Pokémon-e Trading Card Game: EX Team Magma vs Team Aqua
PT Cruiser To Be Auctioned On eBay

To Look Both Hot And Cool...This Is The Ride For You!
REDMOND, WA (February 26, 2004) - Just in time for the release of the newest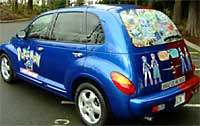 expansion of the Pokémon-e Trading Card Game: EX Team Magma vs Team Aqua, a SPECIAL EDITION, one-of-a-kind, Pokémon-e TCG: EX Team Magma vs Team Aqua PT Cruiser is being auctioned on eBay from Tuesday, February 24 - Friday, March 5 with all proceeds from the auction going to the Starlight Children's Foundation. This hot, fun vehicle sports a custom paint-job featuring images from the popular Pokémon-e Trading Card Game: EX Team Magma vs Team Aqua and has the ultimate Nintendo video game system built-in, which includes a Nintendo GameCube and a 27" color television.
Direct Link to Auction

As an added bonus, the winner of the auction will receive two (2) tickets to the Pokémon Trading Card Game Presents Frankie Muniz HoopLA! 2004 Celebrity Basketball game and VIP reception which takes place on Sunday, March 14 at the Los Angeles Sports Arena. Frankie Muniz, star of "Malcolm in the Middle" and "Agent Cody Banks 2" is hosting this event and will introduce the winner at the Half Time Show (travel and accommodations not included). The winner will also have the chance to see many celebrities from film, TV and music playing in the game. All proceeds from the auction benefit the Starlight Children's Foundation - an international non-profit organization dedicated to improving the quality of life for seriously ill children and their families. Formed in 1983 with the granting of a single wish, the foundation offers an impressive menu of both in-hospital and outpatient programs and services.

To learn more about the auction, log on to eBay at www.ebay.com or visit the Pokémon Trading Card Game website at www.pokemon-tcg.com. And for more information about the Pokémon Trading Card Game Presents Frankie Muniz Hoopla! 2004, visit the Starlight Children's Foundation website at www.starlightcan.org.

Pokémon USA, Inc., a subsidiary of The Pokémon Company in Japan, manages and oversees the property outside of Asia, which includes licensing activities; brand promotions; publication of the trading card game; TV animation; home video entertainment; the official Pokémon website; the Pokémon Center NY in Rockefeller Center and pokemoncenter.com, an e-commerce site. Pokémon was launched in Japan in 1996 for play on Nintendo's Game Boy® and has evolved into a global cultural phenomenon.
Pokémon was introduced in North America in September of 1998 and has since generated over $15 billion in worldwide sales. More than 38 million Pokémon video games have been sold in the U.S., including Pokémon Ruby and Pokémon Sapphire, which were the #2 and #3 best-selling video games of 2003*. The trading card game, fueled by organized play programs around the world, has spurred global sales of more than 13 billion cards to date, while the Pokémon animated series on Kids' WB!, now in its sixth season, consistently ranks within the top three shows for boys ages 6-11. For more information, visit www.pokemon.com.
* According to the NPD Group

As the worldwide leader and innovator in the creation of interactive entertainment, Nintendo Co., Ltd., of Kyoto, Japan, manufactures and markets hardware and software for its popular home video game systems. The systems include Game Boy®, Nintendo 64®, Game Boy® Advance and Nintendo GameCube™. Since the release of its first home video game system in 1983, Nintendo has sold more than 1.8 billion video games worldwide, creating enduring industry icons such as Mario™ and Donkey Kong® and launching such franchises as Zelda™ and Pokémon®. Nintendo of America Inc. has marketed and distributed Pokémon video games in North America since 1998. Pokémon-e
TCG: EX Ruby & Sapphire marked NOA's first release in the Pokémon-e TCG product line. As a wholly owned subsidiary, Nintendo of America Inc., based in Redmond, Washington, serves as headquarters for Nintendo's operations in the Western Hemisphere. For more information about Nintendo, visit the company's website, www.nintendo.com.