Bike Winner
November 14, 2000
My name is Dan and I live in Ohio. Back in June or July, I won a Pokemon bicycle from Kid's WB for being the correct caller in the "Kellogg's Eet Em up and Win Sweepstakes". The bike finally arrived!
It is a Rand 16" and has Pikachu, Wartortle, Charmeleon, and Poliwrath on it. I also got a Charizard bike helmet! The bike is too small for me, so I have given it to my little brother Ryan. He loves it! Me and my brother and my mom check Pojo every day for the latest Pokemon news.
We borrowed a camera to send you this photo. The weather has been nice and we have been enjoying the bike!"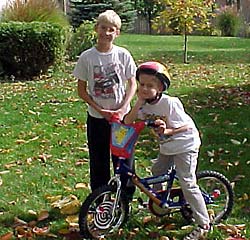 Ryan and Dan Betts, Ohio, show off the Pokemon bicycle and helmet that Dan won from the Kellogg's "Eet 'em up and Win" contest and Kids' WB.
Congrats Dan!