Tropical Mega Battle 2000
Report by Jason Klaczynski
About two weeks before the tournament, I got a call from Wizards of the Coast. They told me that I was invited to the 2000 Tropical Mega Battle. I couldn't believe it, and they told me that Wizards would pay for my flights, housing, and food for me and one other person. It sounded great and I immediately knew I would go. They told me to bring a deck of Base and Jungle. I made a Haymaker with 4 Electabuzz, 3 Hitmonchan, 3 Scyther. (Honestly, what did Wizards think when they told us this? That's pretty much saying "Bring Your Haymaker," although I did see a few Wigglytuff decks.)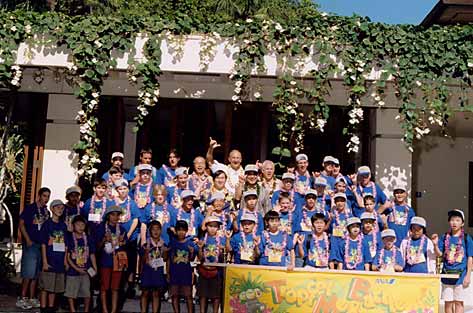 I arrived on August 25th, Hawaii was beautiful. The hotel was awesome, and huge, and right by the beach. I spent my first day hanging out on the beach, and on August 26th we brought our decks around to 8 different "gyms." The gyms were all over, Misty's was on the beach, Lt. Surge's was crammed in a hotel room with Wizards of the Coast employees, including Master Trainer Mike. Sabrina's gym and Giovanni's gym were among the hotel, Brock's and Koga's were in the ball room with a bunch of tables. Erika's was right by the beach. Blaine's was on the grass. Everyone started off at Brock's gym where you played a random person with your deck in a 4 prize match. I ended up losing by decking myself. I was winning after Oaking 3 times and was pretty sure I could win. I was careless and this was a fun game so I didn't think it would matter, but losing this first game won me the tournament. I'll explain that later.
After that we went around to the different gyms and would battle people in there, in Giovanni's gym you battled Team Rocket, which was easy, they weren't very good players and all had bad fighting decks with Sandshrews. Lt. Surge's gym was harder because these were all very good players from Wizards playing 4 Oak 4 Electabuzz 3 Wigglytuff decks. They weren't allowed to use any Pokémon that weren't colorless or lightning type. After all, it was an Electric Gym! My Hitmonchans easily beat Mike Elliot, actually Lt. Surge at the time, wearing a green military suit. Heh. I had him sign by Lt. Surge's Magneton the next day. He wrote "S U R G E" with a lightning bolt on it. Heh. Well, anyway, you also members of the gym in Sabrina's gym, and in Koga's gym. For Erika's gym they showed us a card and we had to have people guess what Pokémon it was by mimicking it without speaking, LoL. On the beach with Misty we had to find Poké Balls. Everyone had to find one hidden in the sand with points and a little Pokémon pin. The points were the whole thing of the day, whoever's team got more points won stuff, and my 6 player team was pretty bad, I seemed to be the only one winning games. In Blaine's gym we had to do his famous trivia. They show us a description of a Pokémon(in like 6 languages because of all the countries there) and we had to guess it. I didn't get any right, LoL.. the other people know the cartoon better.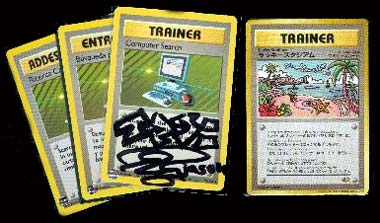 Anyway, our team didn't do too good, but we won energy symbol pins at the barbecue. The barbecue was great.. my friends Jamie, Trevor, John, Zack and I haded upstairs for freeplay on the 2nd floor. Jamie made me carry him up there, LoL. Up there Wizards employees were giving promos to people that could beat them, good promos too. I won all my games with my Wigglytuff/Trap deck, I didn't expect it to do that good. We played until about 10, then I went to my room and fell asleep immediately.
I woke up and walked around, bought a Japanese Jungle Booster from a small store or actually more like a hut. I got a Flareon, not bad. After a lot of walking I caught up with everyone and carried Jamie to the tournament. We went upstairs and I saw lots of kids.. they had that look professional Magic players have, it's hard to describe, kind of like an intelligent "I'm better than you" look. I ignored it and while everyone hid their deck I didn't mind showing mine, I don't think any deck besides a Wigglytuff or Haymaker was in someone's deck box. It IS Base and Jungle, remember. We ate a fancy lunch and watched unusually long Japanese Neo commercials with Imakuni dancing. We headed to the tournament.. we were told we'd all be given the same 90 cards to make a deck with. Interesting. More interesting was the fact that the deck we'd make was a 40 card deck. We'd be playing 4 prizes. I like that idea. These are the cards we got to make a 40 card deck with:
3x Nidoran
1x Nidorino
1x Koffing
3x Weedle
2x Kakuna
1x Beedrill
1x Koffing
1x Paras
1x Oddish
3x Diglett
2x Dugtrio
1x Onix
3x Mankey
2x Primeape
1x Rhyhorn
3x Abra
2x Kadabra
1x Drowzee
1x Mr. Mime
2x Seel
2x Dewgong
3x Squirtle
1x Wartortle
1x Poliwag
3x Ponya
2x Rapidash
3x Charmander
1x Charmeleon
1x Charizard
3x Ponyta
2x Rapidash
1x Growlithe
2x Eevee
1x Rattata
1x Doduo
3x Pikachu
1x Raichu
2x Magnemite
2x Voltorb
1x Electrode
1x Jolteon
2x Potion
2x Switch
2x Gust of Wind
1x Energy Retrieval
1x Bill
1x Super Potion
1x Professor Oak
1x PlusPower
1x Defender
1x Potion
1x Pokédex
1x Pokéball
1x Pokémon Trader
1x Computer Search
1x Energy Removal
1x Full Heal
1x Double Colorless Energy
I chose to make a Fighting/Fire deck with Primeape and Charmander (and the one charmeleon and charizard) along with 2 Eevee.. but at the last second I had to change my mind and get rid of fire. Fire does appear to be the strongest immediately when you see Charmander, which has a quick 30 damage attack, but I didn't want to play it since many people would try the Dewgong idea. I ended up making this deck.
Primegong:
3x Mankey
2x Primeape
2x Seel
2x Dewgong
2x Eevee
1x Squirtle
1x Rhyhorn
2x Gust of Wind
2x Potion
1x PlusPower
1x Defender
1x Pokémon Trader
1x Computer Search
1x Professor Oak
1x Bill
1x Energy Removal
8x Water Energy
7x Fighting Energy
1x Double Colorless Energy
(After the tournament I think I should have played: 1 Mr. Mime, 1 Switch)
We would be doing a round robin with our teammates to see if who qualifies for the A league(top league, 1 player per team), B League(2nd best league), and C League. I won my first game against a grass deck and fighting deck I believe. I don't know the kid's name but I got Dewgong out early and there was no stopping it. I beamed down the Mankeys and Weedles. Mankey's Peek was very useful.
I played my second game against a fire/water deck, which Master Trainer Mike later told me he believed was the strongest deck. The kid was from Italy, and he was pretty good, but my Dewgong got out and just took down the Charmanders. I could almost hear the little fire lizards screaming when a huge ice beam hit their tail. Heh.
Third game I was going to play my friend Eduardo, from the Dominican Republic. He didn't seem that good yesterday after I saw him playing a Rain Dance with Jolteons, but he proved me wrong here. He got a Dewgong out- that's my job!! He healed it with repeated potions and down 2-1 I Ice Beamed his Dewgong with mine, trying to paralyze it. If I paralyzed I could probably win, he had nothing else built on his bench, just an Eevee or two without energy. I announced Ice Beam and flipped. The coin started wobbling as it hit the table and I saw nothing but black.. Tails. He Aurora Beamed for the win. I couldn't believe it. I won the last game against another kid from the Dominican Republic that played a Fire/Lightning. The top player would go to the A League, but Eduardo and I both won all of our games but one. (He lost to the Italian kid last round 0-4, ouch. Well I went up to Ron, a nice guy from Wizards who can speak English and Japanese very well. He told me it depends who drew more prizes.. I dashed to the sign and read the amount of prize drawn each round... and added.
Klaczynski, Jason (4) (4) (2) (4)
Then I read:
Hidalgo, Eduardo (4) (4) (4) (0)
18 to 16, haha I won it.. Thank god. I went to the A League, but first we took a break for another very, very fancy lunch in a huge ball room. I talked to Master Trainer Mike, Mike Elliot and Mike Boozer from Wizards. 3 Mikes, interesting. They both traded me about 20 promos for my 3 Japanese Traps and 3 Japanese Rocket's Chan. I also found some Japanese people that traded me like 5 Neo2 holos each for my English Dark Raichus. I don't think they know our Dark Raichu is as rare as theirs. Yay for me.
The next 3 games were going to be the best players there. My first game I had a terrible start against a kid from France or something, I don't even know. Anyway, I was totally defensive and had to Oak. I was down by 5 cards. He knocked out something of mine early so I was down 3-4. He was playing quite defensive and the card total was about 16 - 11, with him having more cards. It looked like I was going to be decked. He sat, looked at his hand.. and believe it or not, he Oaked. When he did that I knew I had him. He sighed in disbelief when he drew his hand and told me to go. I ended up winning on prizes actually. What a relief.
Game 2 was against my friend Zack Davis I met on the plane ride here. He's a really funny kid from St. Louis and is 12. I was 10 HP from knocking out his Mime with my Eevee which was taking forever because Eevee's Quick Attack wasn't getting tails. (I never got so many heads with it earlier, either.) 10 HP away from knockout and after about 15 turns he drew another basic. He was ahead in cards by 1 and towards the end when I had one prize left he was retreating his Mr. Mime and other Pokémon to stall. I decided with about 4 cards left to Gust of Wind his Onix. I Horn Attacked with Rhyhorn. He gusted a Dewgong. I attached energy next turn to retreat and brought out Rhyhorn, played Energy Removal, and Horn Attacked. 30 more HP left. I was praying he didn't draw a switch. He gusted again for my energyless Dewgong! I had 3 cards left. I drew an energy, attached, passed. He rock threw. I drew an energy, attached, passed. He attached a fire to Onix, not a fighting, which could Harden and ensure victory. I looked at my last card and just had to pray it was an energy. It was either that or a Pokémon Trader or something, because I checked my discard for what I had left. I drew and the orange-brown stared at my face. Fighting energy! I attached it to Dewgong, and with no cards left in my deck, brought out good ol' Rhiny and attacked for 30. I won. I couldn't believe it. Zack walked away with sadness and disbelief.
The next game, if I won, I would definitely go to finals. My opponent played fighting/grass. He got a Dugtrio out.. but didn't attach enough energy. I Gusted it and Paralyzed it with my Dewgong, it couldn't even retreat. Next turn I Aurora Beamed it for the knockout. He couldn't get anymore evolution out and I had to take a risky coin flip with Ice Beam. If I got tails one of his Pokémon could take out my Dewgong, leaving me without anything to fight.. but this was my only good option. I flipped, Exeguttor's face stared at me.. heads. What a relief, again. After that I Aurora Beamed for the game.
So I would advance to finals.. wow, this was just amazing me. About 20 people approached me and told me congratulations and good luck. I saw my opponent, Toshiya, who was only 11, and from Japan, walking around and pointing at me, obviously asking what I play. Good ol' Jamie ran up to me and told me these exact words, "He plays a lightning/psychic deck or somethin with Electrode.. you owe me a piggy back ride!" Well, after walking around being very, very, nervous, I finally sat down in the crowded table which was surrounded by about 100 people. A lot of the people were from the news, Wizards, or photographers.. or photographers from Wizards. Maybe a combination of all 3? Well we shuffled, shuffled, shuffled, then handed our decks to each other to be cut, and drew our opening hand. I drew 3 Mankeys, right next to each other in my opening hand. Uh-oh. I benched one too and the opening was his Voltorb against my Mankey, he had a Charmander on the bench, I had my Mankey. Peek looked at the top of my deck and then the other Peek for one prize. I Computer Searched for en Energy Removal(he went first and played a fire on Charmander I believe). I removed it, and scratched his Voltorb. He attached a double colorless energy to Voltorb and told me to go, I think. Soon he ended up Buzzaping his Electrode to turn it into a fire for Charmander which he used to Ember my Mankey for a knockout. His only active was Charmander with a lightning. I drew my prize, which was an Oak, I knew that already because of Peek. I oaked next turn even though I didn't want to, but I needed it. I played a water on seel which threatened a Trader for a Dewgong, retreat and Aurora Beam for the game, but I would need to draw a water. I didn't bring out Eevee and Quick Attack because if I got heads he might play another basic seeing the threat in his face. I thought this was more sneaky. He might not have wanted to bench any lightning Pokémon since I had a Primeape out too now with a fighting energy. (Gust it and Fury Swipe for an easy knockout.) So I ended up using a different attack, I don't even know what. He scratched, and I prayed for a water energy: I drew fighting. I pretty much did nothing, and next turn still didn't draw the water, and I pretty much did nothing.. he scratched, my draw: PlusPower? I looked at the table. I could attach an energy to my Eevee, and retreat, attach a PlusPower, and quick attack. If I got tails I'd do 20.. if I got heads I'd do 40 and win the game. I thought for a second but I would do it. I had a chance to win.. he gave me a chance to win and I took it. I retreated, sent out Eevee, attached the energy, attached the PlusPower, announced quietly "This is for the game," and then was almost blinded by all the pictures taken that second. I flipped it in the air, we both stared at it, everyone stared at it. It landed solidly.. bright green reflecting into everyone's eyes.. the Exeguttor was showing.... Heads!!! Loud applause came and Toshiyu started cleaning his cards. I could hear Jamie, Mike, Zack, my dad and many other people yelling for me. We went up on the stage and this Japanese guy kept asking me Japanese questions and kept expecting me to understand.. the translator translated questions for me about what I thought of my opponent and I just said he's a great player and was difficult to defeat.. stuff like that. I was distracted by Jamie yelling "MAKE ME!" from below me. (Make me is a thing my friend Alex and I started.. when someone says something, pretty much ANYTHING, you say "Make Me," they'll be totally confused and ask "What???".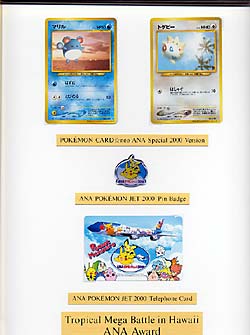 That's when you tell them in a serious, quiet tone, "You heard me.") Yeah, I say lots of things like that.. and I got all of the American players to go around yelling "Make me, yeah, you heard me.." to each other. It was pretty funny. Although Jamie was wrong about it being lightning/psychic, it did have Electrodes, so I carried him on my back back to our rooms followed by everyone and we just traded a bunch of cards for Spanish cards with the kids from the Dominican Republic, including Eduardo, who was the only person that beat me today. I got a Spanish Charizard and a bunch of Italian, Spanish, French etc. cards. We went to the cruise and I got ym Wiggly/Trap deck signed by pretty much everyone I met, all the good players, all cool Japanese people I met, and even the cool photographer. The cruise was cool and Imakuni came and ran around dancing and singing in Japanese.. that guy is hilarious. I got him to sign my Computer Search! He has a very unusual signature. We ate more very fancy food and some weird blue juice that got Jamie sick. Actually the monotnous rocking of the boat probably helped, too. We got called up for our awards, I got a gold medal and a plaque with 2 Japanese promo cards(Togepi, and Marril), a Japanese pre-paid phone card, a pin, and then the same stuff everyone got: The Bi-Lingual Lucky Stadium card, 12 Booster Packs(10 were from European countries.. I got like 5 different types of Computer Search).
The cruise was great and we played Bingo for my prizes. I got an extra hat cause "I'm the champ!" Heh. We went back and all traded and played more Pokémon, which we also did on the cruise. We exchanged phone numbers and E-mail, and Zack gave me his AOL screen name which when I got home I realized wasn't a real screen name.. maybe he did it on purpose cause I beat him. Just kidding.
The Tropical Mega Battle was the coolest thing I have ever done in my life, and Hawaii is just an amazing place.. it was so cool and it's too bad I can't go back next year. I never had so much fun in my life. Everyone got a T-Shirt and a Medal. Thanks for hosting an awesome tournament, Wizards, Creatures.. and everyone who was responsible for it. Also guys, Wizards wants to put a 15 Trainer per deck rule on DCI Tournaments. E-mail Wizards of the Coast and tell them you disagree and why if you do, please. E-mail me just to talk or to ask any questions about this wonderful tournament! ~Jason Klaczynski (OnettNess@aol.com)
LUCKY STADIUM (Stadium Card)
During each players turn, that player may flip a coin. If heads, that player draws a card.