Gold Invitation
Today my son received his "Gold Invitation" to the super trainer showdown in Los Angelos. I've enclosed a scan of the front and the inside of the invitation. I should have also received and invitation but it hasn't arrived yet. My son's arrived via fed ex.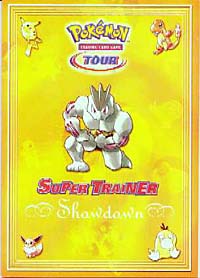 There is a letter included with the invitation addressed to "parent or guardian" and it says "your son or daughter has won an invitation to compete in the Pokemon Super Trainer Showdown....". Gee - maybe they sent my invitation to my mother :) I wish wizards would wake up and realize that adults enjoy playing pokemon also. The final 3 in my qualifier tournament were all adults (30+ years of age).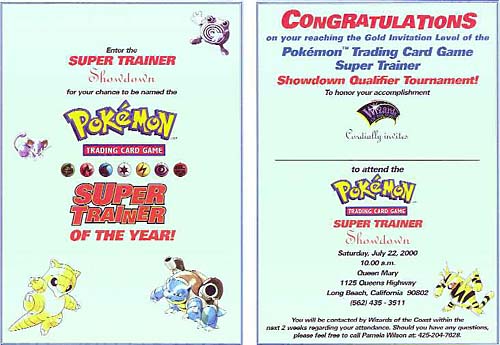 My son also won the free grand prize trip to Los Angeles. We've filled out the eligibility and liability release forms so now we're just waiting to see exactly what we win - I think airfare and a hotel room. My son built a new deck and he's ready to play!!
---lisa