5.10.00 Pojo Staff writer, Gary Mollohan, is at E3 in California. E3 is an Electronic Expo in Los Angeles, where all the Gaming Companies show off to prove who is the best. They show off all the cool stuff that will be out later this year.
This is what Gary has found out today from Nintendo.
"Here's some more info., straight from a Nintendo press release:
Pokémon Gold & Silver (Oct. 16, $29.95)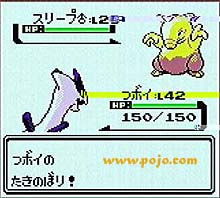 · More than 5 million units sold in Japan within 5 weeks of its November 1999 launch
· Meet Dark-type and Steel-type Pokémon in addition to the previous 15 Pokémon types
· Determine day and night in the game with the built-in clock
· Enjoy full compatibility with the Red, Blue and Yellow versions
Pokémon Puzzle League (Nov.20, $29.95 for GB version, $59.95 for N64 version)
· 1 to 2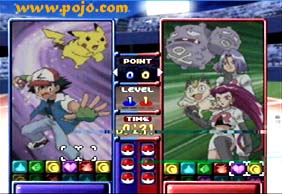 players
· Will appeal to fans of Puzzle games like Tetris Attack
· Align 3 blocks of the same color in any direction and watch them disappear, and the ones above them fall down
· Create chains and combos to score higher — even send garbage to your opponent!
· Enjoy characters from Red, Blue, Gold and Silver
· 6 single-player games, 3 two-player games, a tutorial mode and a professional mode
Hey You, Pikachu (Nov. 6, $89.95)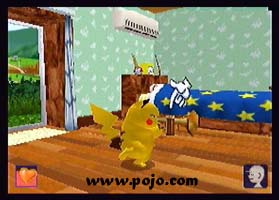 · The first-ever N64 game to utilize voice-recognition software
· Speak into the microphone, and Pikachu will listen and respond to your voice
· Both mic and voice-recognition system are included
Pokémon Pikachu 2 GS (pedometer)
· Oct.16, $29.95
· Successor to the Pokémon Pikachu pedometer
· Features color graphics, new detailed animations and a mini-game
· Interact with Pokémon Gold & Silver through the Game Boy's infrared comm. port for a whole new spin on the adventure
Here's some cereal information for you:
Kellogg USA brings Poké-mania to the breakfast table in May with the introduction of a limited-edition cereal and Pop-Tarts toaster pastries based on Nintendo's popular Pokémon characters.
Kellogg's Pokémon Toasted Oat Cereal With Marshmallow Bits is the first and only Pokémon cereal. The enticing, fun, Pokémon-decorated box contains oat-based rings with four Pokémon character-shaped marshmallows — blue Poliwhirl, yellow Pikachu, pink Ditto, and green Oddish — and the cereal is fortified with 12 vitamins and minerals. On the back of the specially marked boxes is a game that invites kids to be the best Pokémon Master by helping Ash find the Pokémon hidden in the colorful picture. The average price for the cereal will be $2.49 for a 13.2-ounce package.
Cereal isn't the only tasty way kids can enjoy Pokémon for breakfast. Kellogg's Pokémon Pop-Tarts toaster pastries will put smiles on kids' faces with a new Wild Cherry flavor. Yellow Pikachu frosting is topped with Pokémon sprinkles in four Pokémon character shapes: yellow Pikachu, blue Poliwrath, pink Chansey and orange Charmander. Priced the same as regular Pop-Tarts toaster pastries, Kellogg's Pokémon Pop-Tarts come 12 to a box at an average price of $2.79. They will be available until the end of the year.
Well, that's all for now. I'm going to go and try to sneak onto the show floor.
Gary"