www.pojo.com
New York Toy Fair 2000 -- part 3

I'm saving the full details on the Wizards of the Coast (WotC) meeting at the New York Toy Fair until tomorrow. I want to be able to show you all the cool photos we took of their upcoming games.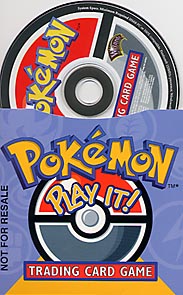 When we visited WotC, they gave us an advance copy of "Pokemon Play It!" This is a new Trading Card Game CD-ROM from Base Set 2 that teaches people how to play.
I played the CD trainer game on my laptop ... I personally think it rocks for the newbies ....
There is nothing better in the world right now than this for teaching the Pokemon TCG!
Plus you can actually play a 30 card 3 prize game against the computer too ... and the computer's AI is pretty dang good! It uses Gust of Wind, Bill's, retreats, etc. all very timely. It appears to be a great engine for a future PC game?!?! (Let's Hope)
This CD teaches you the game, lets you play the game with a one of 2 pre made 30 card decks, print playmats, make counters, take quizzes, and has some new screen backgrounds for your PC.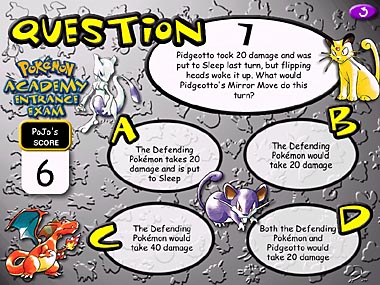 The quizzes will be easy for the experienced player, but great for the beginner.

This will be something Mr. Brokaw can recommend to the newbies when they ask him what many of us consider to be an easy question.

Requires an IBM PC, Pentium 133 or greater, Windows 95/98, 16M Ram, 4X Cd-Rom or greater, a 2 MB Video Card, and 800 x 600 screen resolution. And a sound card.

The graphics are great, sound is good, & the interface is simply fantastic. The Pokemon even say their names when they attack.


If you are really good at the game already, then I wouldn't rush out to find this. Though I think you'll get a kick out of it for about 45 minutes or so. If you want to teach a friend or a parent how to play, then this CD is a must! WOTC deserves a nice pat on the back for this product.