Pokemon League
Season 2
Gym Leader's Guide
New Gym Leaders and Old Gym Leaders alike often have questions about what the proper procedures are for running a Pokemon League. Wizards of the Coast provides page inserts when you receive your Session Kits that often detail important information regarding how the league runs, how to give out promo cards or other fliers you receive, and some general tips on surviving your weekly ritual of Pokemon Gaming.
However, over the past year, I have found myself several times asking questions about different aspects of the league, that were never clearly answered in my mind. For instance, during Season One, anyone over the age of 16 was not allowed to participate; however, recently, Wizards of the Coast has decided to make Pokemon League open to all ages. Thanks Wizards! Recently, Season 2 has arrived in your stores and you are probably scanning the materials getting ready for this first week. This guide will provide you with some Frequently Asked Questions and their answers, as well as provide you some insight into how you can help things run smoothly at your store.
PREPARATION
One of the most important aspects of running a successful Pokemon League is to prepare ahead of time. Most often, this is simply reading over the inserts that may arrive in new kits, organizing your promo cards, activity handouts, and making sure you have enough empty badge books should you get an influx of new members. If you should happen to run out of your initial shipment of badge books, you can order additional ones from the same place you order your Session Kits. You should always plan to order the next Session's Kit at least 2 weeks prior to starting the next Session, this way you make sure you get it prior to the day your members are supposed to be working on that badge.
One other aspect of preparation is space. Ideally, you want to be able to hold your Pokemon League on the same night of the week (or two nights of the week if possible!) for a set time period. This allows the members to identify particular nights of the week as 'Pokemon Time'. Doing this will increase the number of members that will turn out for any given day. Popular times for Pokemon League are Mondays 4pm-6pm and Saturdays 11am-1pm. If you can't make use of these times, then use whatever fits into your schedule; however, I've learned that providing 3 hrs on 1 night a week or 2 hrs on 2 different nights a week is about ideal. It gives the members plenty of time to work towards their badges.
BADGE BOOKS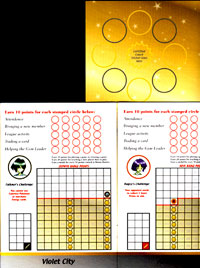 You received a shipment of new badge books. These badge books are different from Season 1. You can no longer earn points of having complete sets of cards, and each badge is not earned at 500 points anymore. Instead, the first badge is earned at 400, the second at 430, and the amount needed continues to increase for each badge until the eighth badge... which requires 1000 points to achieve!
Points are handed out as it states in the book. The circles at the top, marking Attendance, Activity, etc. can be earned once per week and you place a stamp in both the circle above and below in the grid. Members can then earn 10 points for every game they play, and an additional 10 points if they won that game (maximum of 20 points per game). They must then go and play someone different than who they just played. This prevents cheating and helps the members interact with more than just a single friend or two.
After each game, have the two members come up and report if they won or lost and give out 10 points to the one who lost and 20 to the one who won. This is easier than giving out the points when they start playing and then stamping the winner at the end. It will save you time by only needing to stamp the winner's book one time.

STICKERS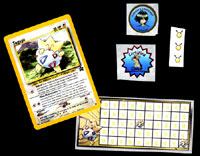 Every time a member earns 10 points towards a badge, they earn 10 points towards that Session's Promo Card. The first session (Zephyr Badge) has a Togepi card as the promo. Place the Togepi sticker in the back of your member's badge book and stamp it every time you stamp the Zephyr Badge grid. If you stamp on top of a picture of Togepi, give the member a Togepi Promo card. A well earned reward!
There are several other stickers as well as the promo stickers. The Challenge stickers are used after a member has earned their badge for a particular session. Each session lasts 6 weeks. So, for your first week, you will stamp everyone's badge book on Week 1's attendance on the Zephyr Badge page, Week 2 is stamped on Week 2's attendance, etc. If you have new members join, you stamp them on the same Week as everyone else, but their points for their attendance go on the grid of the first badge until they earn it.
This is probably the most confusing part of Pokemon League. Always keep track of what week it is. If it is Week 8, then you are in the second week of Session 2. Members who have been their since week 1 will probably be working on their second badge at that point. However, a new player will get their attendance stamp on the second badge's page... BUT the 10 points they earn must be stamped on the Zephyr Badge's page (first badge). As soon as that player earns their Zephyr Badge, they immediately start earning points towards the next badge, losing out on the options of the Challenges or Medals because they are behind the rest of your members. Members can not proceed onto the next badge until they have earned the previous badge AND your Week # has moved you into that Session. Members who have received their Zephyr Badge, for instance, can not work on the next badge until Week 7. Until that time, they can work on the Gym Leader's Challenge on that page and continue to earn points in their grid beneath the badge.
If a member completes their badge and is stamped on a Medal on the grid beneath the badge, place one of the Medal Stickers on the next badge's grid. When you do get to the next Session, they will have already earned 10 points and you will start stamping AFTER all their Medals! A nice way to get a jump start on the next badge.
If a member completes their badge and is stamped on the icon on the last grid spot of the Gym Leader's Challenge, they earn that Gym Leader's sticker on the back of their badge books in the perimeter circle of 8 starbursts.
Once per meeting, you should offer the Certified Coach Test. If you start to run out of these tests, photocopy more of them. Each member is only allowed to try the test once per meeting. If they get 13 of the 15 questions correct or better, they become a Certified Coach and you should place a Certified Coach sticker on the back of their badge books in the center starburst. This allows the members to teach new players how to play the game and earn some points while doing so. Every time they teach a new player, they earn 20 points for teaching them how to play the game! You should collect finished tests and make sure none of them leave the meeting in the hands of members.

PAPERWORK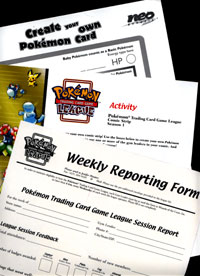 You've also probably noticed a ton of papers. The Certified Coach Tests should be handed out as described above. The Activities should be made available once per week, photocopying more if you have a large number of members. Each Session Kit provides 6 activities, one for each week of the Session. These Activities are only available for members that are 10 AND UNDER. It is a way that the younger kids can earn some bonus points and a fun activity for them.
The Create a Pokemon Card handouts are a special activity that is to be handed out to your members when they earn their Zephyr Badges. You CAN NOT photocopy these. Once you run out of them, you are done with this promotion. Members who do the activity earn 10 points and can send it away to earn a Happy Birthday, Pikachu card! Each member can only earn one of these activities.
Finally, at the end of every league meeting, fill out the Reporting Form with the information that Wizards of the Coast requests and then mail it in with the provided envelopes. This helps Wizards of the Coast make the league better, answer questions or clarify how things should work within the boundaries of the Pokemon League. Last year, this also entitled the Gym Leaders to a weekly drawing for a prize.

I hope you found this document useful in your preparations for becoming a Gym Leader. If you have any further questions or things you'd like to comment on regarding this information, please feel free to contact me at KittyFox@pojo.com