Ness's Nest
with Jason Klaczynski
September 9, 2010
The Top 50 Pokémon Cards
of All Time
#'s 6 thru 10
Below I've ranked what I believe are the Top 50 Pokemon cards of all time. Now, you're probably wondering, how did I determine which cards were better than others? Well, for each card, I considered three different things:
#1 The Strength of the card
Self-explanatory. How good was the card? Did it win games? Was it easy to counter?

#2 Longevity of the card
Over the card's lifespan, how long was this card good? Some cards were legal for more years than others, so I don't consider a card that was good all four years it was legal much better than a card that was equally good for the two years it was legal. Instead, I try to look at it by averaging its strength over its lifespan, but weighed slightly in favor of ranking the card in its prime.
#3 Versatility of the card
Cards that can be played in more decks are better cards. That's why you'll see a lot of trainers at the top of this list: these cards weren't just good, but they were used to win games in a variety of decks. You'll also see Pokemon that are used for Poke-Powers higher than a lot of Pokemon that require a specific type of energy.
Another way to interpret versatility was if a card was playable in both Standard and Modified. I gave a small bonus to cards that were good in both formats.
Not familiar with Standard and Modified?
Standard is the first tournament format used in the Pokemon TCG. It allowed players to use all Pokemon cards. While it technically still exists today (called "unlimited"), the last legitimate tournament for it was held in 2002, so anything from the first three sets (Base, Jungle & Fossil) rotated out in 2002, as far as me, common sense and this article are concerned.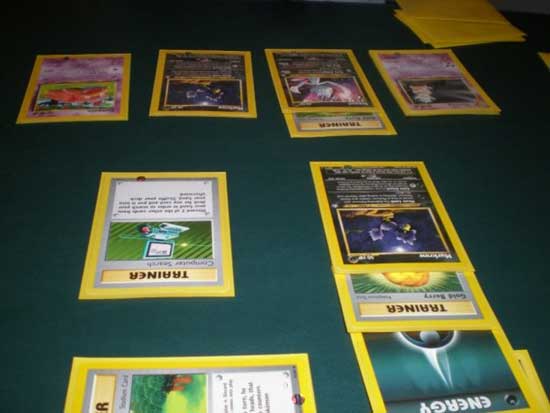 Standard Game
------
The second format, called Modified, began in 2001. The first modified format allowed cards only from the Team Rocket, Gym Heroes, Gym Challenge and Neo: Genesis expansions. In the modified format, the oldest four or five sets rotate out at the end of each year, or "season." This keeps the game interesting and also makes access to tournament-legal cards easier for new players. Modified is the official format of all sanctioned Pokemon TCG tournaments today, and the annual Pokemon TCG World Championships.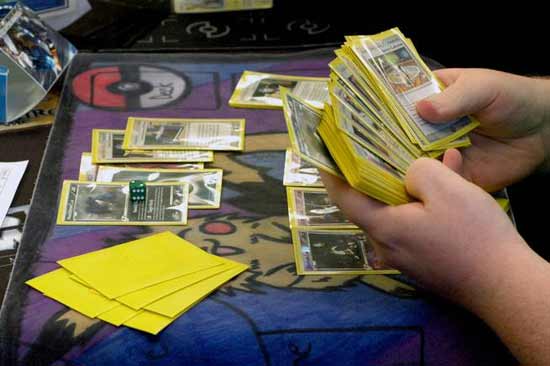 Modified Game
Overall, I spent over 16 hours re-arranging and moving cards off & on this list. After all, ranking cards isn't a perfect science. For those of you that are long time players of the Pokemon TCG, you will be taking a trip down Pokemon memory lane. And for the rest of you who never really played competitively, I'm sure you'll still get a kick seeing which cards had the biggest impacts on the game.
#10 Scramble Energy (Deoxys, Dragon Frontiers)
Formats legal: Modified (2005-2007)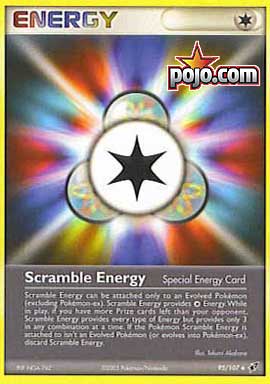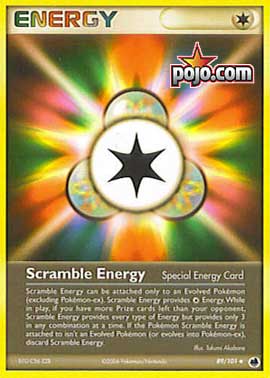 Three energy of any energy allowed evolution decks to easily recover against speedy starts that put them down in prizes. Some cards (like Empoleon) would try to damage several Pokemon without taking prize cards, so that they could use Scramble Energy to its fullest potential while remaining in good shape. This card was so powerful that decks often ended up in stalemate situations where the first player to take a knockout would walk into a Scramble Energy and be at a disadvantage.

----------------------------

#9 Pidgeot (Fire Red/Leaf Green)
Formats legal: Modified (2005-2006)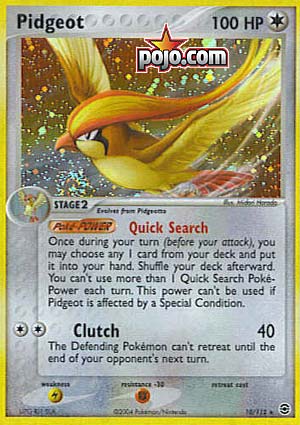 In 2005 and 2006 your deck needed to do one of two things to win: run Pidgeot, or run something to turn off it's Poke-Power, such as Medicham ex, Battle Frontier, or Lunatone & Solrock. Most games between good players playing Pidgeot came down to who got Pidgeot out first. The advantage of getting any card from your deck each turn is huge. It not only boosted every deck's consistency, but protected you from hand disruption, and gave you access to single copies of cards in your deck which would otherwise be difficult to draw into.
-----------------------------

#8 Slowking (Neo: Genesis)
Formats legal: Standard (2000-2002), Modified (2001-2002), Banned in Modified (2003)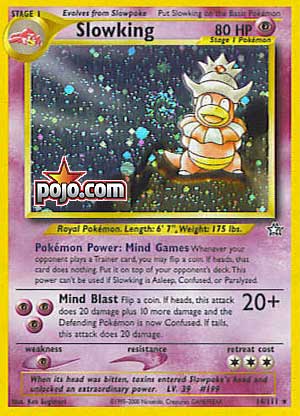 A mistranslation turned a completely unplayable card into an absolutely broken card that was eventually banned from modified. Slowking's Mind Games Poke-Power only works when Slowking is active. That is unless someone from the translation department makes a mistake and allows it to work from the bench. Oh, and stack. Yep, two Slowkings means you were flipping two coins anytime your opponent played a trainer. Three Slowkings meant three, and you can guess what four Slowkings meant. With most decks at the time running about 30 trainers, calling Slowking overpowered would be an understatement.
-------------------------------------
#7 Rare Candy (Sandstorm, Holon Phantoms, Great Encounters, Unleashed)
Formats legal: Modified (2004-)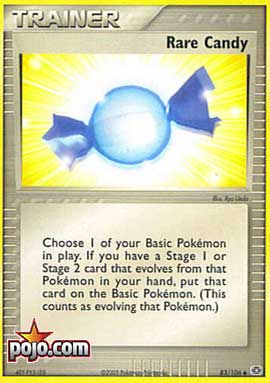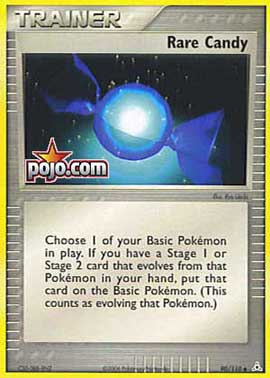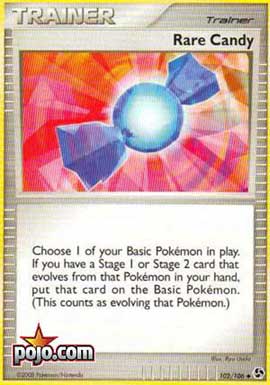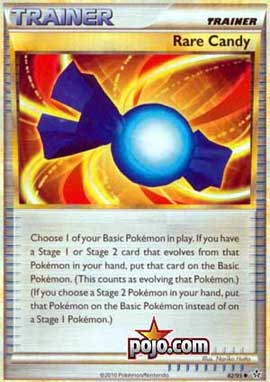 Stage 2 Pokemon were rarely playable in Pokemon until this card was printed. Not only does Rare Candy allow you to skip the Stage 1 stage, it also lets you evolve a Pokemon the first turn you play it. Since its release, decks based around Stage Two Pokemon aren't just playable, they're often fast.
---------------
#6 Claydol (Great Encounters)
Formats legal: Modified (2008-2010)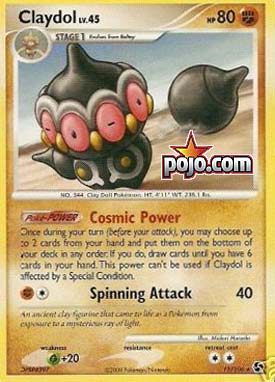 Claydol made just about every deck in modified consistent. Then, after Broken Time Space premiered it turned Stage 2 decks (like Jumpluff) into not only consistent, but fast powerhouses that could go off on turn one and two.
The Top5 Pokémon cards of All Time: TOMORROW
!