Happy Fourth, Pojo!

New issues of Viz translated Pokémon Adventures manga hit store shelves this week, comic shops should have X-Y volume 11 and Omega Ruby-Alpha Sapphire volume 4 around Wednesday, got mine already at Barnes & Noble. I filled the gaps of my collection when Viz plugged the translation holes in the series, currently reading from start to finish, now up to volume 19; I believe I consulted the Bulbapedia to make sure I had my issues on my now full DVD rack in the correct sequential order since Viz jumped around and re-titled things a bit. I own quite a few of the Japanese series Pocket Monsters Special from which these are translated and they pretty much kept to a strict numerical order, making it easier to figure order of reading! Also on some store shelves is a new level 2 reader, "Welcome to Alola" from Sun-Moon Pokémon series featuring screen shots from the anime (alas, no Komala pictured in this episode!). Got snacks? Betty Crocker has fruit flavored Pokémon gummies out on store shelves—got those at Meijer, along with the Alola reader.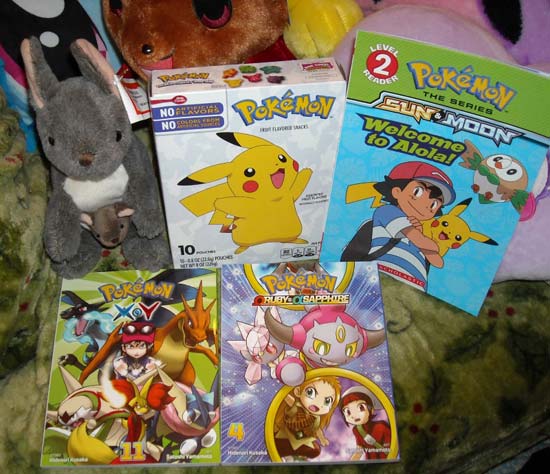 *Komala used Nap Time* Yeah, the heat will do that to you. I visited Columbus Zoo over the weekend since they had Tweeted out they had gotten two new koalas from San Diego Zoo, "Katy" and "Thoar."

The new koalas are not yet on exhibit, but I did catch cheeky Wruwallin's best assets wedged in for a long afternoon siesta. She perked her ear because there were a lot of children bustling outside her habitat. I went through my 2015 photos from the zoo and found this nice shot of Moondani, RIP, quite the regal posture and those claws! (Unpaid blog, photos not for commercial use.) I picked up a cute kangaroo mini-plush (I've pretty much bought up all the koala plush already!) at the gift shop, round up your total and you support feeding the animals (koalas are the most expensive animals to feed as their eucalyptus must be flown in from the southwest since the trees need a warm climate to grow) and the AZA Species Survival Plan. I've dubbed the plush Kanga & Wru, a nod

to Pooh and Wruwallin. As great as it is to see the zoo getting a chance to continue the Species Survival Plan work, ultimately, only a Koala Protection Act can save the iconic Australian marsupial in the wild. Save the Koala Month is September and you can read all about how you can help via the Australian Koala Foundation's website www.savethekoala.com. Don't forget they offer free shipping on $50AU+ orders during Save the Koala month—I've already got my eye on a few things for this year's order. You can also donate and plant trees via the website, this year I plan to remember Columbus Zoo's Barnaby Koala.

Back to my Pokémon Shuffle game this afternoon, wondering if my Angry Pikachu will trigger during the competition… Pi…

Loretta
Addendum: Splash!—and More Summer Reading!
I have a few things to add for the holiday haul—Scholastic has more great Pokémon summer reading hitting the shelves, we've got a sort of then and now theme going on here what with having passed the 20 year mark for the franchise. Scholastic has the 1st Sun & Moon chapter book, just out, "The Pokemon School Challenge" for the "now," and for the "then," check out this cool new book: "Pokemon First Partner Handbook" which is chock full of history about Ash's original group of starters and Pikachu not to mention tons of full color pictures! The reading level for the handbook looks about the same as the chapter book and both books have 90+ pages apiece, found at Barnes & Noble. Now for the SPLASH—spotted at Hot Topic first, there was a new wave of Tomy plush which included Growlithe and Abra, but the price was a bit higher than I'd prefer, so I zipped to the mall's nearby GameStop and lo! They had the new wave, too! So… I got Magikarp! The manager agreed that would be his pick, too, it's easily the most amusing plush I've seen in a while, and easily the most worthless contender in a battle, LOL (though we did agree it does evolve into Gyarados, but I digress!). OK, well, I'll give the poor li'l Team Rocket reject lots of love, so it's all good. Also spotted at GameStop (last month it was Ninetales & Arcanine Tomy plush) were Charizard and Blastoise Tomy plush locked up in the display window. Isn't July great? We're on the cusp of shelf reset at most major retailers and many places are seeing the new merch start to trickle in. Not to worry, I'm setting aside funds for Save the Koala month (September at www.savethekoala.com's gift shop), Unofficial Team Komala's favorite shopping venue! SPLASH! Pika…! Loretta