And now, today's card!!...well, it is Carbink, in both incarnations. Figuring it was better to review the two simultaneously, today we get to see what makes them so noteworthy in the first place! Aside from of course evolving into Carbink BREAK.
And looking between the two,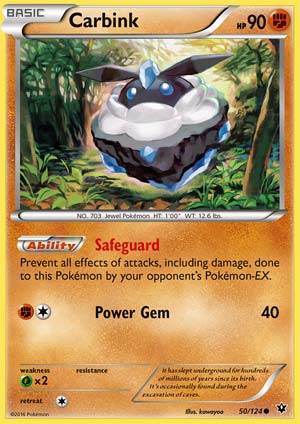 there are a lot of similarities. Both of them are Fighting types with a Grass Weakness and a Retreat Cost of 1, and each of them has an Ability and an attack. Their HP scores are pretty close to each other, with Carbink (49) getting the shorter end of the stick at 80 while Carbink (50) rests at a nice 90 HP. That's about where it all ends for these two, because beyond that both of them are very specialized in what they do.
And no, I'm not talking about 49's Stone Edge attack that's 3-for-60 with a chance to add 30 more damage, and I'm DEFINITELY not referring to 50's 2-for-40 vanilla Power Gem. It comes down to their Abilities, and both of them are helpful in their own way. 50's Ability is Safeguard, which we've seen before on cards like Sigilyph (DEX) and Suicune (PLB). There's nothing new to this Ability, only now it can be used to power up Carbink BREAK as your main Energy accelerator while avoiding any EX attacks. It's an amazing Ability as always and never one to be overlooked...even with an attack like Power Gem.
49's Ability is Energy Keeper, which is a bit like a Safeguard but in a different way. It keeps all of your Basic Pokemon's Basic Energy safe from anything your opponent might try and throw at it - whether that's an attack, an Ability, or a Trainer card of any kind (Item, Supporter, or Stadium). It's a nice protective effect for sure, though I'm a little concerned that it might be too niche. The Ability would arguably be better if it designated all Energy or even just focused on Special Energy, but it's understandable why they didn't design it that way - it's not like Night March needs more support, ya know? Still, it has a lot of potential even outside the Fighting deck to be used as a tech to protect your Pokemon's most valuable asset.
So what's the verdict on these two? Well I still personally prefer 50 over 49 - despite Night March's insistence, EXs are still a major part of the game, even if they're nowhere near as powerful as they were back in the BW era. And while 49's attack is definitely better for that extra Energy, its Ability feels a bit too narrow for my taste. That all being said, each of them has their use, and they can both gain Carbink BREAK's powers, so they've both got a good chance of being valuable in the future as time goes on.
Rating
Standard: 3/5 (for both of them, as they've got good Abilities to work with at the very least)
Expanded: 2.5/5 (arguably 49 is a little better than 50 here, since 49 can protect the Energy on the Basic EX in this format while 50 has to compete with other Safeguard users)
Limited: 3.5/5 (and they've both got a good set to work with here, though getting BREAK doesn't hurt)
Arora Notealus: It's funny that the most viable form of Carbink needed to get a Type change and a BREAK evolution to be considered good, and now it's a mainstay as part of the new VirGen with Zygarde-EX. It's like some kind of..Cargarde? Zybink? ZyBREAK? Oooh, I like that one! Only with less caps...ZyBreak!
Weekend Thought: What did you think of this week's cards? Love em? Hate em? Do you wanna explore new and alternative ideas with them that aren't part of the standard flow? Could they fit well into a casual build, or do you think there's potential for them in competitive play? I mean, aside from Carbink of course, he's already there raring to go.