WHY AN ALTARIA-EX DECK, OF COURSE!!
Altaria-EX actually is a Colorless EX, unlike M Altaria-EX - nice little mix-up on the part of the TCG crew, since Altaria does change from a Dragon/Flying to a Dragon/Fairy in the games. And with the Colorless typing, Altaria-EX can also make use of the Colorless support released back in Roaring Skies, like Winona or even the Altaria released in that set!
On top of that, Altaria-EX has two attacks, one of which is Powerful Gain. It's only a 2-for-30 hit, but if Altaria-EX was healed this turn, it can deal an extra 60 damage and heal off another 30 damage. If Altaria-EX has Fairy Energy on it - an easy task, if you're running a full M Altaria-EX deck - then Fairy Drop can become a big boost to it, healing off 50 damage and then letting Altaria-EX deal 90 damage and heal off another 30 all for 2 Energy. Not a bad deal, all things considered.
Shining Wind then becomes a bit of a back-up in the event Altaria-EX can't be healed for whatever reason. At 3-for-80, its only boon is that it removes Altaria-EX's Weakness to Lightning until the end of your opponent's turn. It's a nice attack in the event that you can't heal for Powerful Gain's effects, but with such an aggressive format, it's hard to think when that would be. Not to mention how many Electric decks are you gonna run into anyway?
Still, not too bad for a Mega-Evolving EX. I'd almost gotten used to them being exceptionally terrible in lieu of their Mega form.
Rating
Standard: 2.5/5 (with the right set of tools in hand, Altaria-EX can do pretty well for herself)
Expanded: 2.5/5 (which is good, cause we wouldn't want things to get all complicated from not being able to do stuff)
Limited: 3.5/5 (I mean seriously, how terrible would that be?)
------
And then there's M Altaria-EX. Honestly makes me wish that Mega-Evos worked more mechanically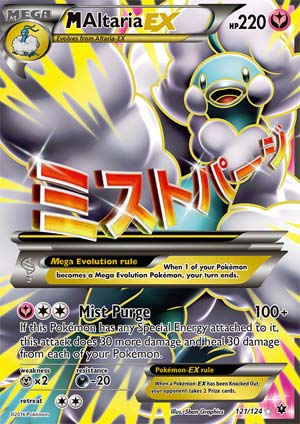 like BREAK Evos, letting you use previous attacks, but details. If they were, Mist Purge and Powerful Gain would probably work differently and become super powerful. Heck, even just altering Powerful Gain the way I'm thinking of would tear it apart.
But enough about that, what's Mist Purge all about? Well, it's a little like Powerful Gain in that if you fulfill a condition, the attack will do more damage and heal M Altaria-EX for a certain amount. The big difference is that the condition is a bit easier to fulfill than healing yourself each turn, albeit at a slightly higher cost. As long as M Altaria-EX has a Special Energy attached - like, say, Wonder Energy - Mist Purge goes from a 3-for-100 hit to a 3-for-130 hit, and it'll even heal off 30 damage from M Altaria-EX.
Combined with M Altaria-EX's bulk, Mist Purge is a pretty good attack. Having that Special Energy attached means she can start 2HKO-ing any Pokemon in the format, and if we've learned anything from cards like Rough Seas, constantly healing off even 30 damage each and every turn is a big boost to one's survivability. This can make M Altaria-EX a pretty bulky threat to deal with, even considering she's got 220 HP to start with. Healing off 30 damage every turn simply makes the effective score that much higher.
Of course, like all new Mega Evos, M Altaria-EX also has the power of a Spirit Link card to keep you from losing out on your turn, and since Mist Purge doesn't require anything other than Special Energy, you can get away with moving your Spirit Link off and throwing down a damage boosting Tool like Muscle Band or Fighting Fury Belt, the latter of which is arguably better given M Altaria-EX's bulk. Outside of that though, there's not a whole lot else in her favor. Still, she's working with enough, so it's certainly a doable deck to build.
Still wish Mist Purge could power Powerful Gain. Man that'd be crazy.
Rating
Standard: 3/5 (a decently powerful EX with a good amount of support can do a lot)
Expanded: 3/5 (and M Altaria-EX is a great example of one that can do well with the support)
Limited: 4/5 (of course, Limited limits her playability, but that doesn't mean she isn't strong if you get the right pieces)
Arora Notealus: I think the only other Pokemon-EX that can Mega Evolve into another Type is Rayquaza-EX, since he's either Colorless or Dragon who can become Colorless or Dragon. That's pretty interesting, huh? I wonder if they'll try that with Ampharos-EX at some point...or Aggron-EX?
Next Time: That's no gemstone...THAT'S A FAIRY!!