Ever wanted ways of getting Energy back into your hand? Well now you can! Introducing a pair of cards that get all that pesky Energy back into your hand!
Energy Pouch is a Tool that allows you to grab whatever Basic Energy were on a Pokemon that got KO'd and add them to your hand. The only stipulation, aside from the Basic Energy piece, is that the Pokemon needs to be KO'd by damage from an opponent's attack - not Poison, not Burn, not that recoil damage you hit yourself with, the opponent's gotta beat you. Aside from that, there's the natural issue that it takes up your Tool slot for your Pokemon, which is a bit debatable.
But the main nail in the coffin on Pouch here is what deck would even run this. The only ones I can think of are anything running Emboar or Blastoise, and the last I checked...neither was Standard-legal. If there is something for Standard that lets one vomit their hand of Energy onto the field, then Energy Pouch might be somewhat viable, but otherwise, it's a bit of a letdown for anyone looking to cycle back Energy.
Besides, stuff like Bronzong does it better.
Rating
Standard: 1.5/5 (extremely niche use, I wouldn't recommend it)
Expanded: 2/5 (only really usable with an Ability that throws Energy from your hand down quickly)
Limited: 2.5/5 (or like Alpha Growth or something, that might be a thought)
------
And then there's Energy Reset.
...man, what can be said about Energy Reset?
All it does is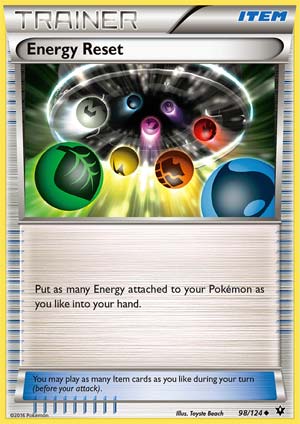 allow you to take any number of Energy cards attached to your Pokemon and put them back into your hand. Which I'll admit, there is one use for it - getting it off a Pokemon that can't make much more usage of it. But considering the single slot it's going to take up in your deck, is it really worth it to grab that Strong Energy off of a Pokemon?
...come to think of it, when would you be able to take off Energy like that from a Pokemon?
Rating
Standard: 1/5 (it's barely usable for anything I can think of)
Expanded: 1/5 (unless you mean to rearrange the field you've set up)
Limited: 2/5 (and even then, didn't you set it up with all that in mind to begin with?)
Arora Notealus: These cards aren't that great. "Energy" cards rarely have been. It's not like it's their fault usually, they just don't tend to be very good. And it's not like there's that much you can do with Energy anyway - all you do is attach it to power up attacks. Returning to the hand is okay, but stuff like Exp. Share is better when it can immediately reattach that Energy. I think if more of these cards worked on reattaching the Energy lost rather than just taking it back, they'd at least see some play.
Next Time: A sleepy bear needs a sleepy day.