Well now, looks like we've got a double review today, and it's...well, for the same Pokemon actually! Zygarde has been receiving a lot of attention thanks to his new forms popping up (BUT IN MY GAMES WHEN???), and today we're gonna look at the smaller non-EX versions to see how well they'd fit in any build.
Zygarde (52), or as he oughta be called "Zygarde 10%" or "Zydog", is the first one we look at, and he's pretty simple. Non-evolving Basic, 90 HP, pretty standard I suppose. His first attack is Lookout, though it's not really as much of a "lookout" move as a "GIVE ME THE POKEMON I'M LOOKING OUT FOR". See, it acts like a free Pokemon Catcher or Lysandre, switching out one of your opponent's Benched Pokemon for their Active. The lack of targeting makes it pretty cool too, but no damage output is a little risky, especially if your opponent just switches it out again.
Aura Break isn't a terribly great attack to use either. It's 3-for-70 which is okay, but at the least if the opposing Active Pokemon is Dark or Fairy Typed, it won't be able to attack during your opponent's turn. That's a pretty nice plus, but it's also very niche and not that applicable when your opponent can switch it around again. Thus Zydog becomes a bit of a touch-and-go kind of Pokemon whose main use would be for switching things around to set up, only for your opponent to potentially undo it in a moment's notice if they've got the card for it.
Never mind that 90 HP is still a magic number.
Rating
Standard: 1.5/5 (pretty underwhelming for the "first form" of Zygarde)
Expanded: 1.5/5 (he's got niche potential at least, and the Fighting support should even things out a little)
Limited: 3/5 (but aside from that, I don't see him seeing much play)
------
With all that in mind, let's talk about Zygarde (53), or "Zygarde 50%".
This one's got 120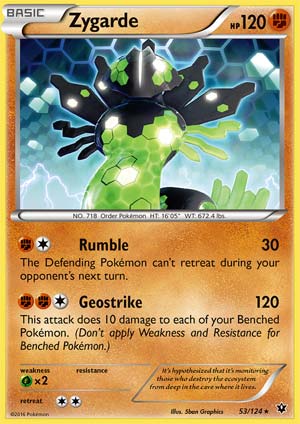 HP, the other "magic number" of sorts but for Megas. That's okay, at the least he may last a little longer than Zydog, but I'm sure we'll see about that. In the meantime, he's got two attacks, one of which is Rumble. At 2-for-30, Zygarde can deal some damage and keep the Defending Pokemon from Retreating. This would be great to combine with Zydog's Lookout, if it was a little more like Lysandre to be used during your Main Phase and what not.
Then there's Geostrike, which is 3-for-120 that deals 10 damage to your Benched Pokemon. While there are ways around the negative recoil, such as Mr. Mime and Mountain Ring, it's a big mediocre in the first place, and in this day and age it's better to push that damage output to be higher than ever. Luckily, there are plenty of ways to do that for Zygarde.
The obvious is Muscle Band of course, but Fighting Fury Belt is probably a better Tool for Zygarde 50%. It'll push his HP to 160, making him rival other Pokemon-EX while dealing out 40 damage on Rumble and 130 damage on Geostrike. Strong Energy can also stack on top of that to push Geostrike into potentially OHKO range, making Zygarde more powerful than before. Course the investment may or may not be worth it, but Zygarde can at least do more than...well, Zydog.
Rating
Standard: 2/5 (the drawback to Geostrike makes Zygarde a little dangerous to use recklessly)
Expanded: 2/5 (but if you use him smartly, you can get the edge in a match pretty easily)
Limited: 3.5/5 (it'll do some good in even these formats)
Arora Notealus: One of these days, they'll give us the forms...BUT IT IS NOT THIS DAY!!
Next Time: DOUBLING UP YOUR ENERGY POWER!!