Pojo.com's
Naruto
They Said It - Crossword Puzzle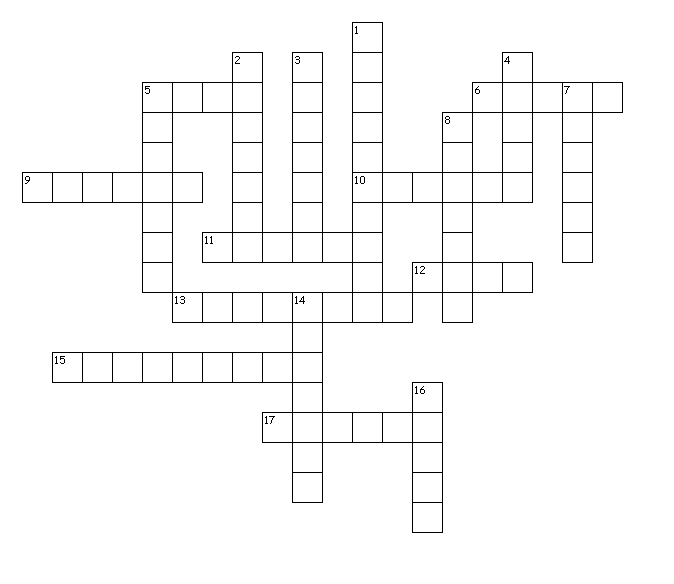 Across
5. – "If I were you, I'd let Akamuru go."
6. – "I planted a beetle on you as you left the arena … a female beetle."
9. – "Itachi chose me to be the avenger of the clan!"
10. – "I find this clan hopefully unfit for my capacity."
11. – "I need to control my Chakra with more precision to find small things like insects."
12. – "Special tip for you. I can radiate my chakra from an chakra points on my body."
13. – "If I can't attack my opponent 100 times while he's falling, I'll do 200 push-ups!"
15. – "These classes are such a drag."
17. – "Please … please bring back Sasuke … "

Down
1. – "A Ninja's talent lies in the use and master of every Jutsu that exists in this world."
2. - "Sorry I'm late, I got lost on the road of life"
3. – "I'll give you the answer! I am a sage associated with toad spirits from Mt. Myoboku and therefore generally known as "Toad Sage!!"
4. – "The pleasure of this last piece of meat is allowed only to me."
5. - "You haven't seen half of what Crow can do. So far he's been playing nice!"
7. – "I don't quit and I don't run!"
8. – "I want to prove you can become a splendid ninja even if you can't use Ninjutsu or Genjutsu!"
14. – "Desk work isn't really my thing!"
16. – "I'm not a fool but you are. It's nothing for me to create the sand under the ground."
Use Each Ninja only once.
Naruto – Sasuke- Sakura - Shikamaru - Rock Lee – Jiraiya – Kankuro - Kiba – Shino – Choji – Itachi – Orochimaru - Tsunade – Gaara – Neji – Might Guy – Hinata –Kakashi