Pojo's Naruto News - 2008
The Mysterious Anbu Take Center Stage in Naruto™: Clash Of Ninja® Revolution 2 for Wii™
Los Angeles - August 21, 2008
TOMY Corporation and D3Publisher (D3P), publishers of interactive entertainment software, have announced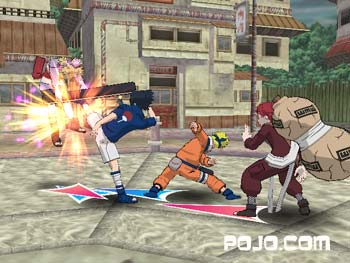 that the mysterious covert operation group called the Anbu will be playing a major role in the exclusive North American storyline for NARUTO: Clash of Ninja Revolution 2 for Wii™. Clad in standard issue black uniforms and porcelain animal masks, the specially trained Anbu squad is called upon by the Hokage, the leader of the Hidden Leaf Village, during times of extraordinary danger and for high-risk missions.
"In VIZ Media's NARUTO animation series, running on Cartoon Network, the Anbu only played a parallel and unexamined role in the original storyline," said Yoshinobu Matsuo, producer of consumer software at TOMY Corporation. "We were fascinated with the concept of the Anbu, who are different from regular ninja in the NARUTO universe, and created a new story around them."
Part of four original fighters made exclusively for the game, two new and original Anbu characters have been created for NARUTO: Clash of Ninja Revolution 2. They will be accompanied by Yugao, a known member of the Anbu featured in the animated TV series, whose boyfriend dies by the hands of the Sand ninja during the devastating surprise attack against the Hidden Leaf Village.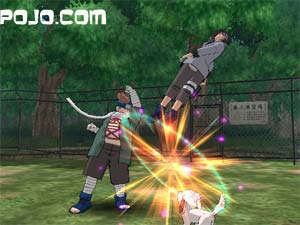 About NARUTO: Clash of Ninja Revolution 2
NARUTO: Clash of Ninja Revolution 2 is set to provide players with quality fighting game mechanics and a fast-paced gameplay experience on Wii. Set after Sasuke leaves the Hidden Leaf Village to gain more power from Orochimaru, the title offers a slew of playable characters, including those developed especially for the storyline. Clash of Ninja Revolution 2 features destructible stages and four-player multiplayer battles, along with gameplay modes and characters not yet seen in the Clash of Ninja series.