Meb9000's Naruto CCG Deck Dojo
Fire/Water Deck
April 30, 2007

Help...my deck needs work!  I know it's top-heavy but I'm having 
trouble figuring out who to lose...and how best to build up my low 
drops.

When I play against friends - well, actually my students... 
I'm a teacher :) - it does pretty well...gives up BR early on but 
usually comes on strong to take a win.  The problem is, our local 
tournaments allow only 30 mins for two -three games, meaning I'm 
usually down BR when time's up!  Also, my jutsu's and 
missions are pretty uninspired.
Here's the latest version (yes, I know its boring old fire-water but I 
love early settlement...so I'm committed to running fire-something...or 
perhaps mono fire??):
Ninja
0 drops -
3 Konohamaru - hokage's grandson
1 Sasuke Uchiha - vanilla
2 Shikamaru - IQ of 200 (he's here because I've got a few good mental 
guys)
1 drops -
1 Sasuke - late arrival
1 Dosu - sonic impact (I have more of him...maybe I should use them??)
2 drops -
3 Yoroi Akado - chakra absorption
1 Hisame - smartest ninja
3 drops -
2 Hayate Gekko - detecting a plan
1 Tayuya - impenetrable barrier (I like her...but I only have one of 
her)
4 drops - none
5 drops -
2 Kakashi Hatake - early settlement (only have 2 copies)
1 Kakashi Hatake - energizing the brain (but I have all the various 
Kakashi's to choose from)
2 Zabuza - demon of cloud village (I have more of him)
6 drops -
2 Second Hokage - hokage level
1 Third hokage - village governor (I have 2 more that I could play)
1 Third hokage - addressing past wrongs (only have one copy)
1 Orochimaru - eternal youth (only have one copy)
Platoon -
1 - Kakashi and Guy
Here are some other high drops that I cycle in and out of my deck...
Kabuto Covert Ops...I love him but who to dump in order to play him?
Enma...but I don't know that he's help much...
Fourth Hokage, Pervy Sage, 9-tail (fire-lightning deck one day??)
Jutus -
3 Water vortex
1 Lightning blade (the +7 version)
1 Lightning blade (the flip a coin version)
2 Sharingan eye (negate jutsu version)
1 Sharingan eye (negate and apply jutsu version)
1 escape jutsu
1 chakra absorption jutsu
(I have a Reaper Death Seal that I'm considering playing)
Missions -
1 bingo book
1 appearance of unknown rivals
1 accident
1 four man squads
I have a HUGE collection of cards (but no chidori and no sasuke 
aoc...sigh...) so chances are I have most cards you might suggest.  Any 
help you can give would be hugely appreciated!!
Cheers,
Patrice
Well, it is certainly cool and interesting that you are a teacher who plays the game, makes our community a good bunch bigger ;) Anyway, it is good that you have a solid collection with which to make your Fire/Water deck better, since I do have a lot of changes to suggest. Missions should definitely be improved, and should have the priority of Water, since The One Who Inherits and Entrusts the Will won't work with the non-Leaf water ninjas. Without further adieu, here is my deck fix
Ninjas (25)
0-drop 6
2 Konohamaru [Hokage's Grandson] (2 is definitely enough, know that from experience.)
2xSasuke Uchiha [Analysis of Competence]
2xShikamaru Nara [IQ of 200 or Higher]
1-drop 4
1xSasuke Uchiha [Reason for the Late Arrival]
3xDosu Kinuta [Sonic Impact] (Definitely works great for the early game over Yoroi)
2-drop 4
2xDemon Bros. Gouzu
2xDemon Bros. Meizu
3 drop 3
3xHayate Gekko [Detecting a Plan]
5-drop 6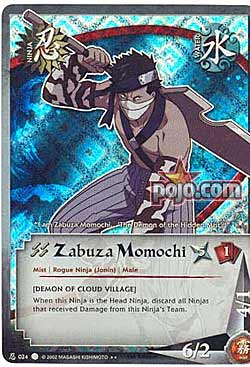 2xKakashi Hatake [Early Settlement]
1xKakashi Hatake [Energizing the Brain]
3xZabuza Momochi [Demon of Cloud Village]
6-drop 2
2xThe Third Hokage [Addressing Past Wrongs] or [Village Gov.] if you don't have 'em.
Jutsus (9)
2x8 Trigram Divination Seal Spell Formula
2xWater Style: Giant Vortex Jutsu
2xSharingan Eye [PTH]
3xSenbon
Missions 6)
2xEnd of the Demon
2xAppearance of Unknown Rivals
2xMission of Capturing the Missing Pet Tora
With these fixes, I hope that you can make your deck a streamlined beating machine. The Dosus hold ground early along with your strong Sasukes, until the big bad Jonins come out to play. The Jutsus do well to control, while the missions draw cards and take out key threats.
Until Next Time-meb9000