Q's Universe
Four Freedoms
7.14.04
Characters: 31
4x Invisible Woman (1)
4x Human Torch (2)
4x Mr. Fantastic (2)
4x Thing (3)
1x Human Torch (4)
4x Invisible Woman (4)
1x Storm (4)
4x Dr. Doom (4)
1x Mr. Fantastic (5)
1x Thing (5)
1x Hulk
1x Thing (7)
1x Apocalypse
Plot Twist: 20
4x Acrobatic Dodge
4x Tech Upgrade
4x Child Named Valeria
4x Signal Flare
4x Relocation

Locations: 5

1x Avalon Space Station
4x Four Freedoms Plaza

Equipment: 4
2x Pogo Plane
2x Fantasticar
After reading my Origins Tournament Report a member of this site sent me an e-mail asking if I could please write a Killer deck on that deck archetype. This is a deck Iíve been working on for a while and been tweaking a lot reacting to whatís in the environment.
Iíve seen a few variants of this deck archetype, some of them are aggressive and others like this one are a bit more defensive. This variant focuses on the stall potential of the archetype but can also turn into your average F4 beatdown deck if it needs to. After all, you never know when you might run into that one match up that wonít allow you to set up and thereís times when you have to be aggressive to be able to win. Iím a big fan of having as many options has possible and just couldnít bring myself up to building a F4 deck without flying bathtubs.
HOW IT WORKS
This deckís first and main goal is to be able to set up what many keep referring to as ďThe Perfect StallĒ. ďThe Perfect StallĒ is a six character set up that uses A Child Named Valeria and the tutor of all tutors, Four Freedoms Plaza to completely lock down your opponent and keep him from being able to deal you any damage.
Let me explain the set up required to make this deck work before I get ahead of myself. The perfect set up is based around having the following character set up:
<![if !vml]>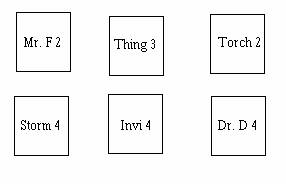 <![endif]>
Why is this character set up so important and why is are some of the characters in there so random? Good Q, let me explain how this specific cards along with a few others come together to form the impenetrable wall.
Once you have this set up all you need is a Child Named Valeria to keep your three smaller guys upfront from getting stunned and thanks to the Invisible Woman (4) your three guys are reinforced. Thatís pretty much the impenetrable wall, your opponent can try to attack you as much as he wants and he will never manage to get a single point of damage trough. Storm is not necessary for the lock but is there to stop decks that have characters with flight or decks that use Flying Kick to take out the Invisible Woman (4) so your guys will no longer be reinforced. Odds are you wonít need Storm in most games but incase you do sheís there just waiting to be summoned from your deck with Four Freedoms Plaza.
The catch about the deck is that you can only prevent all damage for one turn because A Child Named V. only works for the turn itís used. Thatís where Dr. Doom and Avalon Space Station come in. You could Four Freedoms Plaza for more Child Named V but you can also get a Dr. Doom to turn the one you used earlier face down. The following turn simply get another Dr. Doom and follow it up with the Avalon Space Station to be able to use the same Child Named V has much as you desire. If you happen to naturally draw a Dr. Doom or a Child Named V you can use the Plaza to get whatever other card you feel you might need like a second Plaza just incase your opponent tries to pull a fast one on you.
THE SET UP
I know how inconsistent this set up might seem, especially when you need to have four of the six characters in play by turn five and you still need to get certain locations and plot twist in play. Just follow me trough the next couple of paragraphs before you make up your mind and think this set up is nearly impossible in a real game.
There are a lot of different elements the set up needs to be able to cover every single angle and thatís why weíre going to break everything down so weíll have a few small goals thatíll help us achieve our grand goal in the end. The six character set up is the most important thing in the deck but you donít need all six to get the stall engine started and like I said early most of the time you wonít even need Storm at all.
The first thing you want to shot for from the very begging of the game is to get all the Fantastic Four in play. Donít worry about the Child Named V, Dr. Doom or even the Plaza because if you canít get the four fantastic characters you need you wonít be able to set the lock irregardless of how many Dr. Dooms and Child Named Vs you have in your hand. With that in mind mulligan if necessary to get as many of the F4 youíll need in your starting hand. Once you get the four of them in play, hopefully by turn five latest the deckís pretty much able to do the rest with out too much hazel.
By turn five you should have drawn a Plaza, Pogo Plane or a Tech Upgrade to get the Pogo Plane to get the Plaza. Use A Child Named V and Acrobatic Dodge to make sure you donít lose any of the F4 you play in the earlier turns. Itís ok to get one stunned a turn but do everything you can to ensure a second one doesnít get stunned because losing one of them will cost you more than you can imagine. Use the Signal Flares to help you get whatever characters you might still need. If you have any Tech upgrades in your hand use them instead of attacking to get some early damage in.
The Tech Upgrades will help you thin your deck out and will give you equipments to play on later turns when youíll have resource points to spare. Always tech Upgrade for Pogo Planes over Fantasticars because even if you already have a Plaza the Pogo Plane will help you thin out your deck more and you never know when you might need to use to Plazas in the same turn to stay alive.
TURN 4
When it comes to turn four I know youíll want to play the Invisible Woman (4) but you shouldnít if you donít already have a Plaza face down or in your hand. If you donít, just play the 3rd F4 character because this is the time to play that Pogo plane and get the Plaza for next turn. If you feel not playing the Invisible Woman will keep you from using A child Named V you might have which would more likely result in getting your guys stunned then do what you must and just hope to draw into a Plaza turn five or into another Child, or a Dr. Doom.
TURN 5
Getting the four F4 needed in play and the Plaza by turn five is the hardest thing, once you manage to complete this task everything else will fall into place. Turn five you can use the Plaza for the first time to get a Child Named V if you donít have one ready to be used. If you do then you should get a 2nd Plaza just incase. You donít want to have the perfect set up and lose to a Relocation or Ka-Boom!
TURN 6
More than likely you needed to use the Plaza on turn five to get a Child or a 2nd Plaza, which means this turn youíre going to use it to get a Dr. Doom and youíll have two resources left to play the Fantasticar and/or Pogo planes. If you really need Storm you could get her now if you have a Child you can use or if sheís desperately needed you could use a 2nd Plaza to get both cards needed for this turn.
TURN 7
Once youíve reached this turn there shouldnít be much your opponent can do to disrupt you. Worst case scenario you can be playing against a Doom deck and theyíll Gamma Bomb this turn. If they do just Plaza for APOC and let him go up against their Doom (8) next turn. In the long run you should get the game because even if their Doom (8) can manage to keep taking down your APOC their lost of 2 resources a turn will give you the game because most of your drops are rather small and dropping a Thing (7) or Hulk could be more than enough to seal the deal.
Thatís pretty much all there is to this Killer Deck. I suggest you play it and try it out a few times, because is not until then that youíll realized this deck is a lot more reliable than expected. Iím currently working on an upgraded version of it using the DC set and will be posting it as soon as Iím happy with it. If you have any suggestions or would like to see a certain article please feel free to drop me an e-mail at lmlo_0lml@yahoo.com.
This is Q signing off.