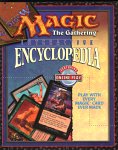 Get the MTG
Interactive Encyclopedia
from Amazon.com


Drafting Invasion/Planeshift/Apocalypse
Part 2 - Drafting the Apocalypse Pack
Last week we discussed how Apocalypse has changed some of the styles popular in past booster drafting. Basically, drafting two color decks is out. Drafting two color decks with a little bit of a third or fourth color is in. Drafting super-speedy red/black decks is out. Drafting green early in order to enhance your ability to get different colors of mana is in. Of course, these new strategies do not mean that you should go crazy and draft five color decks. Many people, especially when the set first arrived weeks ago, were so excited by the amazing cards in Apocalypse that they used a draft strategy reminiscent of the policy used by many professional sports teams when they draft new players; "draft the best card in every pack you receive". This just won't work very often. Booster drafting would be pretty simple if all you had to do was draft the most powerful, or most expensive card in every pack you look at. Magic just isn't that simple. If you "rare draft", that is, just pick up the rare or seemingly "best" card in every pack, regardless of color, you will not win very often. Sometimes players believe that by defensively drafting powerful cards that aren't likely to be in their own decks, that they are protecting themselves by not letting another player get that powerful card. Unfortunately for these players, they have also stopped themselves from having the best possible deck to play themselves. In short, you have to be careful. When the dust settles in an Invasion/Planeshift/Apocalypse booster draft, you should probably try to end up with a lot of quality cards in two colors with possibly a few very good cards in one or maybe two other colors. Are you playing a four color deck? No. You should be playing a two color deck with a splash of one or two other colors.
There is something very wrong with this group of sets when it comes to drafting. Invasion and Planeshift are drafted first, and each of these two sets rewards the player for playing allied color strategies, like blue/white, red/black, and so on. Apocalypse requires players to play opposing colors to take advantage of most of the best cards in the set. It is clearly counter-intuitive to be forced to wait until the third pack of a booster draft to suddenly introduce an opposing color to the allied color strategies that you used in the first two packs of the draft. It wouldn't be surprising if some players start asking to draft Apocalypse first or at least second in booster drafts in order to help them craft their three color draft strategies. This might be a nice idea, but not really necessary. Drafting opposing colored cards in the last pack of a booster draft may not be the easiest thing to do, but nobody ever said that drafting well was going to be easy.
After drafting Invasion and Planeshift, you hope that you have defined your two main colors and the most likely third color in your drafted cards. Now you are looking at Apocalypse cards. This is quite a set, with many cards that will be very good for every format in Magic. There are cards in this set that will be great for standard constructed, block constructed, of course, and every form of limited play. The same cards, however, will not be equally good in all formats. Here are some of the Apocalypse cards worthy of draft consideration. Of course, when you open your Apocalypse pack, or when you have first pick of an Apocalypse pack in a Rochester draft, you may get a shot at one of the game-breaking rares in Apocalypse. All five of the 'Volver cards are very good for draft decks. These cards are a lot like the dragons from Invasion, except that the 'Volvers can be played as a cheap one color creature of average to low value, as a medium priced two color creature of average to better than average value, or as a three color creature of better than average value. Of these five, my favorites are the Rakavolver and the Anavolver, since they are giant flying creatures in their fully-kicked incarnations. There is nothing wrong at all with any of the five 'Volvers, however, and they can easily be worth a first pick even if your deck is only likely to play two of the three colors involved in the card. Other great rares that you might be lucky enough to see once in a while are Gerrard Capashen, who lets you gain life each turn for each card in your opponent's hand and who also lets you pay 3W to tap a target creature when he attacks. Planar Despair gives all creatures -1/-1 until end of turn for each basic land type among lands you control for 3BB. In a three color deck, this card is functionally a Wrath of God. This card is even better when you can remove your opponent's creatures while retaining some creatures of your own. Desolation Giant is a 3/3 Giant for 2RR that destroys all other creatures that you control when he comes into play. If you pay the kicker of WW when you cast him, Desolation Giant destroys ALL other creatures in play when he comes into play. This card is, in short, a six casting Wrath of God that leaves you with the only creature in play. Bloodfire Colossus is a fat 6/6 Giant for 6RR. For one red mana, you can sacrifice Bloodfire Colossus to deal six damage to all creatures in play and to each player. This card is very powerful, even though it certainly is expensive. Penumbra Wurm is a 6/6 Wurm for 5GG that has trample. Like the other Penumbra creatures, this creature, when it goes to the graveyard, places a black token creature into play with the same characteristics of the original. So, for seven mana, you not only get a massive 6/6 trampler, you also get a second 6/6 trampler after your opponent finally manages to destroy the first one. The token creature has the subtle advantage of being black, and therefore impossible to target for many of the black removal spells in the Invasion block. Fervent Charge is an enchantment for 1WBR that give all of your attacking creatures +2/+2 until end of turn. The three color cost is the only drawback to this powerful enchantment.
Death Grasp is a bah-roken no-brainer of a sorcery for XBW. This spell deals X damage to a target player or creature, after which you gain X life! This is an excellent end-the-game card, or good simply as creature removal, able to remove even black creatures that many other black removal spells cannot target. Fungal Shambler is a 6/4 Beast for 4GUB that has trample. Furthermore, whenever the Shambler damages an opponent, you draw a card and your opponent discards a card from their hand. In the olden days, you might have spent six mana for a 6/4 creature with no trample, much less all the card economy built into this admittedly difficult to cast monster. Lightning Angel is a 3 / 4 Angel for 1RWU that has flying, haste and does not tap to attack. The only drawback to cards like this one and some of the others mentioned already is the three colored casting cost. Obviously, you cannot draft red, white and blue in the Invasion and Planeshift packs just in case you are lucky enough to open a Lightning Angel. Some of these very powerful rares, while tempting, must be passed over if they do not align with the colors that you have already been drafting. Prophetic Bolt is an instant costing 3UR that deals four damage to a player or creature. In addition, you get to look at the top four cards of your library, select one of those cards to put into your hand, replacing the other three cards to the bottom of your library in whatever order you wish. Suffocating Blast is an instant for 1UUR that counters a target spell and deals three damage to a target player. This counterspell is better suited for limited play than constructed, since both targets must exist and be named when this card is played. Yavimaya's Embrace is a creature enchantment for 5GUU that allows you to take control of enchanted creature. Furthermore, the Embrace also gives the enchanted creature +2/+2 and trample. Too costly for constructed play, this card is a game-changer in the draft environment. While this card is expensive to play, it has the advantage of being blue and green, an opposing color combination that seems to be more popular than some others. Of the three cards in Apocalypse that need all five colors to either play or to use, Legacy Weapon is the one that requires serious consideration. Once you get over the seven colorless casting cost, this artifact allows you to spend one of each color to activate, removing target permanent from the game. Further, if the Legacy Weapon is ever sent to the graveyard, it is shuffled back into your library, making this artifact very hard to get rid of. The other two five colored cards, Cromat the near-Morphling, and Last Stand are not good enough to go to the trouble of playing five colors. All five opposing color dual lands are very playable in any format but may not necessarily be first picks from a pack. Pro players, however, have been recently saying that these dual lands can be very important parts of your multi-color strategy, and can be drafted early. There are a few rares that will immediately be very popular in both limited and constructed formats, and two of them are black and green. Spiritmonger is the clearest no-brainer of the set when it comes to fat rare creatures. Spiritmonger is a 6/6 Beast for 3BG that regenerates for one black and can change to the color of your choice for one green mana. Additionally, Spiritmonger gains a permanent +1/+1 counter each time it damages a creature. This is the ability that Sengir Vampire always wished that it had! Even though Spiritmonger doesn't have trample, it is a giant monster that is very hard to get rid of. Chump blocking this guy turn after turn will usually only be the chilling sound of your doom, giving the player with Spiritmonger incredible card economy. Pernicious Deed is an enchantment for 1BG. Spend X colorless mana and sacrifice Pernicious Deed to destroy each artifact, creature and enchantment with a converted casting cost of X or less. This card has been dubbed the new Nev's Disk or else the new Powder Keg. There are good reasons why this card might be better than either of those cards. Trust me, black players have been waiting for a card like this for some time. There are some rares that will probably be very good in constructed formats that are not as good for drafting, powerful rares like Desolation Angel, Phyrexian Arena, Wild Research, Symbiotic Deployment, Mystic Snake and Overgrown Estate.
Of course, most of the decisions you will be making drafting Apocalypse will involve commons and uncommons. Here are the ones that have been the best so far in draft. Anything from the Flag Bearer family is good to have in your white limited decks. Requiring your opponent to change his strategy to include your Flag Bearer in his spell targeting will almost always be to your advantage. Coalition Flag, the one white casting cost creature enchantment that essentially turns an enchanted creature into a Flag Bearer, should probably be avoided. The uncommon Sanctuary spells are enchantments that have an effect at the beginning of your upkeep if you have permanents in play of the colors opposing the color of the Sanctuary card. The most powerful Sanctuary may be Raka Sanctuary, a red enchantment for 2R that deals one damage to a target creature if you have a blue or white permanent in play, or deals three damage to a target creature is you have a blue and a white permanent in play. Yes, a permanent that is both blue and white will let Raka Sanctuary deal the three damage. Play this enchantment cautiously, because if the only creatures in play are your own, you will still have to target one of them for the Sanctuary's damage. The black Sanctuary, Necra Sanctuary, does not serve as creature removal, but can lower your opponent's life point total very effectively. Necra Sanctuary costs 2B and causes your opponent to lose one life or three life, depending on whether you have a green or white permanent in play, or both. Haunted Angel is a 3/3 Angel for the low, low cost of 2W that has flying, and a fairly serious drawback. When Haunted Angel is put into a graveyard from play, she is removed from the game and each opponent receives a 3/3 black Angel token on their side that has flying. However, if you are playing a blue and white deck with a lot of spells and effects that can put the Angel back in your hand if she appears headed for the graveyard suddenly, then you can have a real speed advantage in the unfriendly skies with this card. Helionaut is a common 1 /2 Soldier for 2W that has flying and can tap to change one colorless mana to one mana of any color. This card is the king of the "mana smoothers", giving white the usually green ability to create mana of different colors. On top of this, the 2 toughness of this flying creature makes him a worthwhile blocker in the early game. Any deck with two of these will have a great advantage in playing spells of different colors. Jilt is unbelievably good in limited, needing only one blue and one red mana, along with two other mana of any color, to bounce a creature to its owner's hand AND deal two damage to another creature. Living Airship is a 2/3 flying common that costs 3U and can regenerate for 2G. This is an excellent flyer well costed with the advantage of regeneration, something very rare for flying creatures. A group of commons that should fit well into most limited decks are the five common Disciple creatures. For one colored mana, you get a 1/1 creature that has single mana costing abilities of each of the two opposing colors for that card. The red and green Disciples each have the ability to give a creature flying until end of turn for one blue mana, and the black and green Disciples have the ability to give a creature -2/-0 until end of turn for one black mana. Foul Presence is a creature enchantment for 2B that gives enchanted creature -1/-1 permanently. In addition, the enchanted creature gains the ability to tap to give a target creature -1/-1 until end of turn. This card can be used to simply destroy a one toughness creature, or can be used on one of your own creatures (with a toughness greater than one) to create a permanent threat to any one toughness creatures that your opponent may have in play or in his hand. The best common creature in the set might be Phyrexian Rager, a 2/2 Horror that costs 2B. The Rager causes you to lose one life when it comes into play, and causes you to draw one card when it comes into play. This card has some subtle advantages. The Rager is cheap to cast. Any deck with two of these in it will be playing one on turn three VERY often, and putting another card in your hand every time you cast it. The efficient casting cost of this card is particularly good when you use a spell or effect to return this card to your hand from your graveyard. Often, you will be in the position to spend mana to return the Rager to your hand and still have enough mana to cast the Rager on the same turn, once again drawing a card. The Phyrexian Gagantua, an uncommon card, is a 4/4 Horror for 4BB that causes you to lose two life when it comes into play and which causes you to draw two cards when it comes into play. The Gargantua is a very good creature, but its high casting cost, and the fact that the casting cost includes two black, make it a much less useful creature in general than the Phyrexian Rager. Urborg Uprising is a sorcery for 4B that allows you to return up to two creatures from your graveyard to your hand and draws a card for you. Generally, this card has been found to be an "excessive" version of Recover from Invasion. If you already have drafted a Recover, you are probably better off not drafting the Urborg Uprising. Recover is more powerful because it is cheaper, and Urborg Uprising is really just a greedier version for almost twice the mana cost. It is still a good card, though. Illuminate is a very powerful red uncommon sorcery that costs one red and X colorless mana to do X damage to a creature. Illuminate has a red and a blue kicker, either or both which may be paid. If you pay the kicker of 2R, Illuminate will do the same amount of damage to a player that it is doing to the targeted creature. If you pay the kicker of 3U, you draw X cards. (the X is the amount of colorless mana that you spent in the XR casting cost. This card is very, very good. Of course, this card will entice you to be greedy, saving your Illuminate for a point in the game when you can pay both kickers for maximum benefit and card economy. Don't fall for this, though. If you need to use this card with no kicker on turn two or three or four to get rid of a key creature that your opponent has played, you should go ahead and do so. Bloodfire Dwarf is a 1/1 Dwarf for one red mana that can be sacrificed for one red mana to deal one damage to each creature without flying. This tiny earthquake creature is very useful. You probably don't want to play more than one or two of these in a limited deck, though. Kavu Glider is worth mentioning for strange and somewhat trivial reasons. First of all, this is a 2/1 Kavu for 2R that gains +0/+1 until end of turn when you spend a white mana, and gains flying when you spend a blue mana, giving red a decent small flyer when you also play blue. Just for fun, though, take a look at the Mire Kavu from Planeshift. The flavor text on the Mire Kavu predicts that the next Kavu will probably be able to fly. The appearance of the common Kavu Glider in Apocalypse makes this prophecy come true. The Penumbra Bobcat is a 2/1 Cat that costs 2G. When the Penumbra Bobcat goes to the graveyard from play, you get to put a 2/1 black token cat into play on your side, essentially giving you two 2/1 creatures for the casting cost of just one. Savage Gorilla is super good in limited, providing a 3/3 Ape for 4G that can double as creature removal. For a blue and a black mana, and tapping the Ape, you can sacrifice Savage Gorilla to give a target creature -3/-3 until end of turn, AND you draw a card. All the gold commons and most of the gold uncommons in Apocalypse are very good in limited play, but the best one may be Consume Strength, an instant for 1BG that gives one target creature -2/-2 until end of turn and another target creature +2/+2 until end of turn. This stack-friendly instant is possible to play many different ways to gain many different kinds of play advantage. Ebony Treefolk is a 3/3 Treefolk for the low cost of 1BG. Additionally, the Ebony Treefolk gains +1/+1 until end of turn for a green and a black mana. Apocalypse features five gold creature cards that each cost just two mana, one each of a pair of opposing mana colors. All five of these creatures are great in decks that can support the colors. The best may be Goblin Legionnaire, a 2/2 Goblin Soldier for RW that can be sacrificed for one red mana to deal two damage to a creature or player, or sacrificed for one white mana to prevent the next two damage to a creature or player this turn. Gaea's Skyfolk is a 2/2 Elf Merfolk for GU that has flying, a great evasion creature for a very low cost. Llanowar Dead is a 2/2 Zombie Elf for BG that can be tapped for a black mana. Emblazoned Golem is a 1 /2 aftifact golem creature for two colorless mana that has a kicker of X colorless mana. For each different color used to pay the kicker cost, the Emblazoned Golem gains a +1/+1 counter. In other words, a two color deck can spend four mana, where two of the mana are different colors used to pay the kicker cost in order to get a 3 /4 creature. With a few dual lands in play or some other "mana smoothers" in play, this creature can be cast for seven mana (when that includes one of each of five different colors) to create a fully maxed-out 6/7 golem. Last but not least are the five split cards from Apocalypse, one of each opposing color combination. The blue/green Illusion and Reality card won't be played too often, but the other four are good to draft. The red and blue split card is an instant that can be played either as Fire, dealing two damage divided any way you like among any number of creatures or players, or as Ice, tapping a target permanent and causing you to draw a card. The best split card for limited, however, is the black and green split sorcery card that can be played either as Death, returning a target creature from your graveyard into play and causing you to lose life equal to the target creature's converted casting cost, or, more importantly, as Life, changing all lands you control into 1/1 creatures until end of turn. Life can often be a game ender.
At this point, the most popular opposing color combinations in Invasion block limited decks are black and green, followed closely by green and blue and red and white. In all of these combinations, drafters are able to take advantage of powerful opposing colored cards from Apocalypse while pairing colors that traditionally do two different things well. The black/green decks pair powerful black removal spells with monstrous green creatures. Red/white decks pair powerful white creatures and control cards with red's many direct-damage spells. My personal favorite three color combination in Invasion/Planeshift/Apocalypse draft is red/black/green. As more and more draft players begin to include green as the backbone color of their three colored strategies, it may become important to draft effectively in this block without green. In any case, good drafters will be thinking about mana considerations at all times during the draft process, attempting to be careful about extending too far into a third or fourth color.


Jeff Zandi
DCI Level II Judge
Texas Guildmages
Zanman@ThoughtCastle.com
---