Pojo's MTG
MTG Home
Message Board
News & Archives
Deck Garage
BMoor Dolf BeJoSe

Columnists
Paul's Perspective
Jeff Zandi
DeQuan Watson
Jordon Kronick
IQ
Aburame Shino
Rare Hunter
Tim Stoltzfus
WiCkEd
Judge Bill's Corner

Trading Card
Game
Card of the Day
Guide for Newbies
Decks to Beat
Featured Articles
Peasant Magic
Fan Tips
Tourney Reports

Other
Color Chart
Book Reviews
Online Play
MTG Links
Staff




120x90 Ad Space
For Rent!

BMoor's Magic The Gathering Deck Garage
Howling Banshee
July 3, 2009
Thank goodness it's Friday! Today is a very special day for Pojo, my friends. Wizards of the Coast have finally trusted us with our own exclusive preview card for Magic 2010! Not only that, it's a pretty sweet card! I fully expect to see people finding spots in the decks they send me for quite some time, and you can probably expect I'll be suggesting it to more than a few people before we've heard the last of it. Without any further ado, behold: Howling Banshee!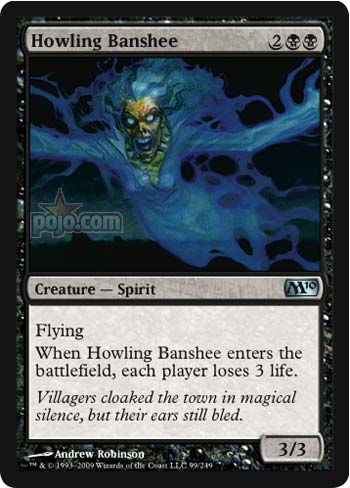 There she is, in all her ghoulish, shrieking glory. Can't you just see the fog hanging over the ancestral Irish moor in the light of the full moon rising, and hear the faint echo of the banshee's wail coming over the grassy hills to chill the blood of wary travelers and shepherds? Can you smell the mist coming in from the bog's edge, and feel the sudden chill in your blood and the shiver in the small of your back as this terror of the night makes its presence felt?
Okay, okay, maybe you're not the poetic type. You're more interested in what this baby can do in your deck than the traditional myths and folktales that inspired it, I suppose. And I'm a deckbuilding consultant, not a poet, aren't I? Fine then. Even as a Magic card, I'm really excited by this. Take a look at this next to core set staples like Snapping Drake, or Bog Wraith. Remember, this is going to be running around in your Core Set drafts alongside cards like those. And it's an uncommon.
How often does black get a 3/3 flyer? Not very. Usually it gets small flyers as Bats or Imps, or Faeries in Lorwyn/Shadowmoor. Or it gets bigger flyers, like Sengir Vampire. But this is a nice balance, at a nice cost. For only four mana, a 3/3 with flying. Snapping Drake has -1 toughness, and Bog Wraith is arguably much easier to block.

But that's not the real draw here. This thing will smack everybody—everybody—as soon as hits the table. It's almost like it has haste! And that's everybody at the table, so if you're big on multiplayer games, this will be a go-to for just making everybody wake up and smell the pain. Making them howl, if you will. Granted, it exacts its 3 life toll from you as well, and your teammates if you have any. But I think you'll find it's worth it.

What could you do with this card? Well, let's take a good look at it. It's black, it has a double-mana requirement, it's a Spirit, it's a 3/3, it has a comes into play enters-the-battlefield ability, it has flying… where to start?

Let's start on the type line, of all places, just because I love going for the non-obvious route. People love tribal decks, don't they? It's just a shame this is a Spirit, and not a Zombie or a Vampire… or a Faerie, right guys? There might not be any Spirit tribal in M10 (or then again there might, I don't know for sure), but that doesn't mean there's never been any. In fact, I seem to remember a few years ago there were quite a few cards that cared about Spirits, back in a block they called Kamigawa. I once knew a girl who played a pretty mean black/green Spiritcraft deck in Kamigawa's heyday, but for this example I decided to stay monoblack.
4 Howling Banshee
4 Thief of Hope
4 Wicked Akuba
2 Kyoki, Sanity's Eclipse
4 Moonglove Changeling
4 Nether Traitor
4 Long-Forgotten Gohei
2 Death of a Thousand Stings
4 Swallowing Plague
4 Death Denied
24 Swamp
In the interest of singular focus, every single card in this deck is either a Spirit, an Arcane spell, or encourages you to play Spirits or Arcane spells. Nether Traitor is always a useful card, though I'm concerned it may be fighting with Wicked Akuba for the two-mana slot. Thief of Hope has one of the best tribal Spirit abilities in Kamigawa, giving you some reach on top of the Banshee's 3-zap. And since we're draining opponents' life points one by one, I'd say we've finally found a good use for Death of a Thousand Stings. Death Denied can recycle our fallen Spirits—after all, what's a Spirit if it can't rise from the dead? It also can boost your hand size for recurring the Stings. Swallowing Plague, our other X spell, serves as removal to ensure nothing stands in the way of the Spirit army. And Kyoki, Sanity's Eclipse earns a cameo here due to her tribal ability to wreck your opponent's hand one card at a time (also benefitting the Stings) and her non-tribal ability to smash face for six. Remember, your X spells are also Arcane, and with a Long-Forgotten Gohei out, the value of X is actually more than the amount you pay for it.
I wasn't exactly aiming for it, but that Spirit deck had sort of a subtheme of life drain. Swallowing Plague, Thief of Hope, and Death of a Thousand Stings all can help pad your life total. That's good, because when the Banshee hits the scene, everybody, including you, loses 3. I can see how some folks may be bothered by that, so this next deck is all about you losing lofe and me gaining it.
4 Howling Banshee
4 Mourning Thrull
3 Souls of the Faultless
4 Blind Hunter
2 Divinity of Pride
4 Essence Drain
4 Tainted Sigil
4 Spirit Link
4 Feast of Flesh
4 Recumbent Bliss
10 Swamp
10 Plains
3 Orzhov Basilica
I've always had a soft spot for Feast of Flesh, since in a way it scales up over the course of the game. Turn One it offs an opponent's one-drop, later on it hits for three or four to kill your opponent's bigger drops. Here it fits right in, since the whole point of the deck is to bleed out opponents and gain what they lose. In a multiplayer deck, Tainted Sigil goes beautifully with our Banshee, counteracting what you lost and gaining an extra 3 per opponent. Souls of the Faultless scares away stray attackers until we get rolling, and Recumbent Bliss can take out a creature and pad our life total.
I swear to you I didn't try to do this, but it occurs to me that every creature in that last deck has flying except Souls of the Faultless. That's just another way Howling Banshee is so remarkable—it's a solid-sized body with flying for a cost that black doesn't usually get such good flyers at. We can use that to build a deck around Howling Banshee as well. I'm thinking a deck full of flyers, and some of red's "X damage to each creature without flying" effects.
4 Howling Banshee
4 Will-o'-the-Wisp
4 Shard Phoenix
4 Deepcavern Imp
4 Sewn-Eye Drake
4 Hypnotic Specter
4 Earthquake
4 Molten Disaster
4 Armillary Sphere
4 Graven Cairns
6 Mountain
14 Swamp
What Earthquake and Molten Disaster don't kill, Will-o'-the-Wisp can block all day until you get enough aerial power to finish off opponents. And with 8 one-sided Wrath effects plus Shard Phoenix, your opponent should have a rough time trying to keep creatures on the table. Armillary Sphere found its way in because X spells like lots of lands, and I'm amused by the synergy between Deepcavern Imp and Shard Phoenix.

Humorously enough, Howling Banshee also works well with Earthquake because they both cause each player to lose life. You could probably build a deck around global life-loss spells—
No, I'm not going to build any more decks. I could all day, but I've gotten too carried away as it is by this Banshee, but hopefully I've demonstrated what this card can do—or better yet, gotten you thinking of what you might do.
Good luck!
~BMoor