DC HeroClix«: Justice League
North American Orders Due July 5, 2007.
Rest of World Orders Due June 21, 2007.
*Product images and packaging information subject to change.*
Stock Number: WZK4226
Title: DC HeroClix«: Justice League
MSRP: $9.99
Booster UPC: 807652 04226 2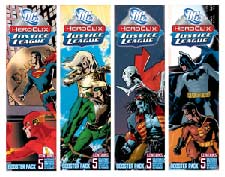 Booster ISBN: 978-1-59041-442-2
Expected Release: August 2007
Unit Dimension 2.75″ x 9″ x 2.25″
Brick SKU: WZK4227
Brick UPC: 807652 04227 9
Brick ISBN: 978-1-59041-443-9
Brick Pack: 10 Boosters
Case SKU: WZK4228
Case Pack: 20 Boosters
Case UPC: 807652 04228 6
Weight Per Case: TBD
Case Size: TBD
Hang Tab: No
Description
DC HeroClix: Justice League heralds a new era for HeroClix! Each five-figure Justice League Booster Pack contains even more action packed 3-D super hero combat than ever before, with 60 individual characters representing one million years' worth of JUSTICE LEAGUE characters!
All-new HeroClix character cards add powers and abilities to make your favorite super heroes stand out like never before. Keywords link heroes to other heroes AND their allies from previous HeroClix releases. And exciting and informative background information like real names and first appearances enhances the storyline in all-new ways! DC HeroClix: Justice League is fully compatible with all HeroClix products.
Each new larger and reconfigured Booster includes five exclusive figures with character cards and one feat card, bystander token, or battlefield condition card. Customers who buy Justice League "by the Brick" qualify to get the exclusive DC HeroClix PHANTOM STRANGER for FREE!
Contents
5 exclusive randomly packed figures with character cards
1 feat card, bystander token, or battlefield condition card
1 marketing insert