Clix News, Tips, Comics News & More
Ultra Proís Heroclix Case Review
By William M. Noetling
So if youíre like me, youíve amassed a huge collection of Heroclix. (I currently have over 400 of the little buggers). At some point, the question of storage comes up, and currently there arenít very many storage solutions. The fine folks over at Ultra Pro have one solution for you now and another on the way. Theyíve just come out with a reasonably priced traveling Heroclix tote, which is fully authorized and licensed by WizKids. They gave me one at Gencon to check out, and I quickly filled up my case with new Heroclix, and walked around for several hours with it. Iím here to tell you, itís an awesome solution to the tricky problem of taking your teams to tournaments or other games.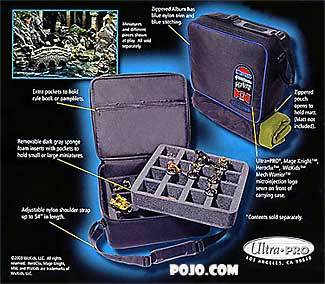 The tote is a sturdy, lightweight carryall, that really does carry everything you could need to go to a tournament. It has two tiers of foam compartments, two inner pockets for rules and other papers (one is zippered), and a bottom compartment big enough to hold rolled up maps and other larger items, even a water bottle if you so desire.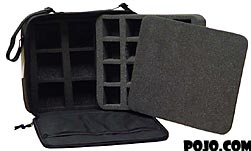 The padded case is not too large, at 12Ē wide by 10 ĹĒ tall by 4 ĹĒ deep, and itís sturdy without being heavy. Both foam trays are really easy to put in and take out. The top tray holds 16 figures of standard size or smaller, and the bottom tray holds 9 larger figures. You can also put your unopened promos and mail-aways in this tray, as they fit perfectly. The case is designed to work for Heroclix, Mage Knight and Mechwarrior, so the bottom tray is a little utilitarian. Sure, itíll fit your bigger Heroclix, like the new Archangel and Dreadnoughts, but I think most players would prefer two trays of 16 instead of one tray of 16 and one tray of 9. If you prefer to go that route, a second tray holding 16 figures shouldnít be too hard to find.
The adjustable strap expands to a maximum of 54Ē long, and also has a moveable shoulder piece. The packaging says the strap is removable,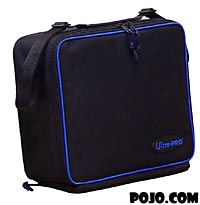 but I donít see how it can be. Thereís no handle though, and that can be a minor drawback to some. The front is emblazoned with a cool WizKids logo, so everyone knows that youíre playing the best miniatures games under the sun. At a suggested $25.00 (though if you shop around, you can get it for under $20) itís a little pricey for the casual player, but for the die-hards, this case is a must-buy. The next piece in the line is a huge suitcase on wheels that looks like it holds a couple hundred clix. I canít wait for that one.


Upcoming Release Dates: