Harry Potter - Characters
Fluffy
Dog
CCG Card Photo: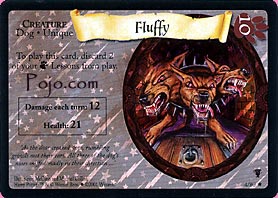 Actor's Name In Movie: Unknown
Hogwarts House: None

James Stear's Bio

Fluffy stars in the first book and film. Fluffy belongs to Hagrid Harry's friend. The reason why Fluffy is even in the book is that he is there to protect the the Phillosophers/Sorcerers Stone but is merly the first defence to protect it just in case someone tries to steal it which indeed Voldemort and the first Defence Against the Dark Arts teacher professor Quirrel. Hargrid came into possesion of Fluffy by getting him off a block he met down the pub who was happy to get rid of him what happens to Fluffy afterwards is unknown.