Have Magic News? Send it to news@pojo.com
Featured Writers
The Dragon's Den
Rumblings From The Ass
The Heretic's Sermon
Through The Portal
Deviations from the Norm
Biographies
"Extended" Warranties
The Grim Tutor
MTG Fan Articles
Single Card Strategy
Deck Tips & Strategies
Tourney Reports
Peasant Magic
Featured Articles
Community
Message Board
Chat
Magic League
Tournament Organizers - Send us your top 8 decklists (constructed tournaments only please) and we will shamelessly plug your site, store, or tournament location with the top 8. We'd like to establish a database that has many top 8 decklists.


Pojo's Magic Price Guide
Alpha was released to the public on August 5, 1993. The Alpha set consists of 295 cards. Approximately 2.7 million Alpha cards have been printed.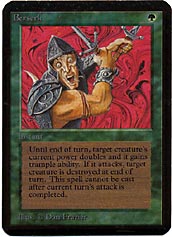 (last updated 4/2001)
| | | |
| --- | --- | --- |
| Set: | | $3,750.00 |
| Starter Box: | | $2,700.00 |
| Booster Box: | | $4,000.00 |
| Starter Deck: | | $300.00 |
| Booster Pack: | | $150.00 |
| Unlisted Commons: | | $1.00-$1.50 |
| | | |
| Card | | Price |
| (Rares) | | |
| Ancestral Recall | | $175.00 |
| Animate Wall | | $8.00 |
| Ankh of Mishra | | $10.00 |
| Armageddon | | $40.00 |
| Aspect of Wolf | | $10.00 |
| Bad Moon | | $25.00 |
| Badlands | | $45.00 |
| Balance | | $30.00 |
| Bayou | | $45.00 |
| Birds of Paradise | | $80.00 |
| Black Lotus | | $425.00 |
| Blaze of Glory | | $40.00 |
| Blessing | | $12.00 |
| Braingeyser | | $25.00 |
| Chaos Orb | | $85.00 |
| Chaoslace | | $6.00 |
| Clockwork Beast | | $8.00 |
| Cockatrice | | $14.00 |
| Contract from Below | | $10.00 |
| Copy Artifact | | $20.00 |
| Crusade | | $25.00 |
| Cyclopean Tomb | | $60.00 |
| Darkpact | | $8.00 |
| Deathlace | | $8.00 |
| Demonic Attorney | | $8.00 |
| Demonic Hordes | | $20.00 |
| Dingus Egg | | $10.00 |
| Disrupting Scepter | | $22.00 |
| Drain Power | | $10.00 |
| Earthquake | | $15.00 |
| Elvish Archers | | $14.00 |
| Farmstead | | $9.00 |
| Fastbond | | $15.00 |
| Force of Nature | | $30.00 |
| Forcefield | | $115.00 |
| Fork | | $40.00 |
| Fungusaur | | $12.00 |
| Gaea's Liege | | $12.00 |
| Gauntlet of Might | | $120.00 |
| Goblin King | | $15.00 |
| Granite Gargoyle | | $15.00 |
| Helm of Chatzuk | | $10.00 |
| Howling Mine | | $25.00 |
| Illusionary Mask | | $40.00 |
| Island Sanctuary | | $10.00 |
| Jade Monolith | | $8.00 |
| Jayemdae Tome | | $25.00 |
| Kormus Bell | | $8.00 |
| Kudzu | | $8.00 |
| Lich | | $45.00 |
| Lifelace | | $6.00 |
| Living Artifact | | $8.00 |
| Living Lands | | $8.00 |
| Lord of Atlantis | | $14.00 |
| Lord of the Pit | | $20.00 |
| Magical Hack | | $10.00 |
| Mahamoti Djinn | | $20.00 |
| Mana Flare | | $17.50 |
| Mana Short | | $10.00 |
| Mana Vault | | $15.00 |
| Manabarbs | | $10.00 |
| Meekstone | | $10.00 |
| Mind Twist | | $8.00 |
| Mox Emerald | | $200.00 |
| Mox Jet | | $200.00 |
| Mox Pearl | | $200.00 |
| Mox Ruby | | $200.00 |
| Mox Sapphire | | $220.00 |
| Natural Selection | | $30.00 |
| Nether Shadow | | $9.00 |
| Nevinyrral's Disk | | $35.00 |
| Nightmare | | $25.00 |
| Northern Paladin | | $12.00 |
| Personal Incarnation | | $10.00 |
| Pirate Ship | | $10.00 |
| Plateau | | $50.00 |
| Power Surge | | $9.00 |
| Purelace | | $6.00 |
| Raging River | | $40.00 |
| Reverse Damage | | $12.00 |
| Righteousness | | $10.00 |
| Roc of Kher Ridges | | $14.00 |
| Rock Hydra | | $17.50 |
| Royal Assassin | | $30.00 |
| Savannah | | $40.00 |
| Savannah Lions | | $20.00 |
| Scrubland | | $40.00 |
| Sedge Troll | | $12.00 |
| Shivan Dragon | | $50.00 |
| Sleight of Mind | | $10.00 |
| Smoke | | $8.00 |
| Stasis | | $12.50 |
| Sunglasses of Urza | | $10.00 |
| Taiga | | $45.00 |
| The Hive | | $9.00 |
| Thoughtlace | | $8.00 |
| Timber Wolves | | $9.00 |
| Time Vault | | $85.00 |
| Time Walk | | $200.00 |
| Timetwister | | $160.00 |
| Tropical Island | | $40.00 |
| Tundra | | $45.00 |
| Two-Headed Giant | | $45.00 |
| Underground Sea | | $50.00 |
| Verduran Enchantress | | $10.00 |
| Vesuvan Doppelganger | | $30.00 |
| Veteran Bodyguard | | $12.50 |
| Volcanic Eruption | | $9.00 |
| Volcanic Island | | $20.00 |
| Warp Artifact | | $8.00 |
| Web | | $8.00 |
| Wheel of Fortune | | $30.00 |
| Will-O'-The-Wisp | | $15.00 |
| Winter Orb | | $20.00 |
| Word of Command | | $55.00 |
| Wrath of God | | $40.00 |
| Zombie Master | | $10.00 |
| | | |
| (Uncommons) | | |
| Air Elemental | | $3.00 |
| Animate Artifact | | $2.50 |
| Animate Dead | | $3.00 |
| Basalt Monolith | | $4.00 |
| Berserk | | $30.00 |
| Black Knight | | $8.00 |
| Black Vise | | $6.00 |
| Black Ward | | $2.00 |
| Blue Ward | | $2.00 |
| Bog Wraith | | $2.50 |
| Burrowing | | $2.50 |
| Camouflage | | $8.50 |
| Castle | | $2.50 |
| Celestial Prism | | $2.50 |
| Channel | | $3.50 |
| Clone | | $9.00 |
| Consecrate Lands | | $12.00 |
| Conservator | | $2.50 |
| Control Magic | | $5.00 |
| Conversion | | $2.50 |
| Copper Tablet | | $9.00 |
| Counterspell | | $10.00 |
| Crystal Rod | | $2.50 |
| Cursed Land | | $2.50 |
| Deathgrip | | $2.50 |
| Demonic Tutor | | $15.00 |
| Dragon Whelp | | $3.00 |
| Dwarven Demolition | | $8.00 |
| Earth Elemental | | $2.50 |
| Evil Presence | | $2.00 |
| Feedback | | $2.00 |
| Fire Elemental | | $2.50 |
| Flashfires | | $2.50 |
| Glasses of Urza | | $2.00 |
| Gloom | | $3.00 |
| Goblin Balloon Brigade | | $2.50 |
| Green Ward | | $2.00 |
| Hurricane | | $3.00 |
| Hypnotic Scepter | | $12.00 |
| Ice Storm | | $20.00 |
| Icy Manipulator | | $40.00 |
| Instill Energy | | $2.00 |
| Iron Star | | $2.00 |
| Ivory Cup | | $2.00 |
| Jade Statue | | $17.50 |
| Juggernaut | | $10.00 |
| Karma | | $3.00 |
| Keldon Warlord | | $3.00 |
| Lance | | $3.00 |
| Ley Druid | | $2.50 |
| Library of Leng | | $3.00 |
| Lifeforce | | $2.00 |
| Lifetap | | $2.00 |
| Living Wall | | $3.50 |
| Lure | | $2.00 |
| Nettling Imp | | $3.00 |
| Obsianus Golem | | $2.50 |
| Orcish Artillery | | $3.00 |
| Orcish Oriflamme | | $15.00 |
| Phantasamal Forces | | $2.00 |
| Phantom Monster | | $2.00 |
| Psionic Blast | | $27.50 |
| Red Ward | | $2.00 |
| Regrowth | | $10.00 |
| Resurrection | | $3.00 |
| Rod of Ruin | | $3.00 |
| Sacrifice | | $2.50 |
| Scavenging Ghoul | | $2.00 |
| Sengir Vampire | | $12.50 |
| Serra Angel | | $22.50 |
| Simulacrum | | $2.00 |
| Siren's Call | | $2.50 |
| Sol Ring | | $20.00 |
| Soul Net | | $2.00 |
| Steal Artifact | | $2.00 |
| Stone Giant | | $2.00 |
| Swords to Plowshares | | $12.00 |
| Thicket Basilisk | | $2.50 |
| Tsunami | | $3.00 |
| Tunnel | | $2.00 |
| Uthden Troll | | $2.50 |
| Wall of Air | | $2.50 |
| Wall of Bone | | $2.00 |
| Wall of Brambles | | $2.00 |
| Wall of Fire | | $2.00 |
| Wall of Ice | | $2.00 |
| Wall of Stone | | $2.00 |
| Wall of Swords | | $2.50 |
| Wall of Water | | $2.00 |
| Wanderlust | | $2.00 |
| Water Elemental | | $2.50 |
| White Knight | | $8.00 |
| White Ward | | $2.00 |
| Wooden Sphere | | $2.00 |
| | | |
| (Selected Commons) | | |
| Dark Ritual | | $3.00 |
| Disenchant | | $3.50 |
| Disintegrate | | $2.00 |
| Drain Life | | $2.00 |
| False Orders | | $3.50 |
| Fireball | | $4.00 |
| Giant Growth | | $2.00 |
| Invisibility | | $3.50 |
| Lightning Bolt | | $8.50 |
| Llanowar Elves | | $3.00 |
| Power Sink | | $2.00 |
| Prodigal Sorcerer | | $2.00 |
| Red Elemental Blast | | $2.00 |
| Sinkhole | | $15.00 |
| Stone Rain | | $2.00 |
| Terror | | $2.00 |
| Twiddle | | $2.00 |
| Unholy Strength | | $2.00 |
---