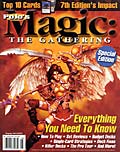 Pick up Pojo's New MTG Mag at newsstands now!


Pojo's Magic Price Guide
Fourth Edition
Fourth Edition was released in April 1995. In WOTC's continued attempts to make the game as fair as possible, 51 cards were removed from the Revised Edition. Over 100 playable cards from early expansion sets like Arabian Nights, Antiquities, Legends, The Dark, etc. were added into this set.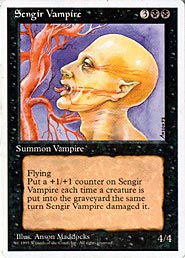 FOURTH EDITION
Set (368)
$225.00
Starter Box
$100.00
Booster Box
$100.00
Starter Deck
$12.00
Booster Pack
$4.00
Unlisted Commons
$.10-$.35
Card
Price
(Rares)
Aladdin's Lamp
$3.00
Aladdin's Ring
$3.00
Animate Wall
$3.00
Ankh of Mishra
$3.00
Armageddon
$6.50
Armageddon Clock
$3.00
Aspect of Wolf
$3.00
Bad Moon
$6.00
Balance
$5.00
Ball Lightning
$10.00
Birds of Paradise
$6.50
Black Mana Battery
$3.00
Blue Mana Battery
$3.00
Blessing
$3.50
Bottle of Suleiman
$3.00
Bronze Tablet
$3.00
Chaoslace
$2.00
Clockwork Avian
$3.50
Clockwork Beast
$3.00
Cockatrice
$4.00
Colossus of Sardia
$5.00
Coral Helm
$3.00
Cosmic Horror
$3.50
Crimson Manticore
$3.50
Crusade
$6.00
Dancing Scimitar
$3.00
Darkpact
$3.00
Deathlace
$2.00
Dingus Egg
$3.50
Disrupting Scepter
$3.50
Dragon Engine
$3.00
Drain Power
$3.50
Earthquake
$4.00
Ebony Horse
$3.00
El-Hajjaj
$3.00
Elder Land Wurm
$3.50
Elvish Archers
$3.50
Eye for an Eye
$3.00
Flying Carpet
$3.00
Force of Nature
$6.00
Fungusaur
$3.50
Gaea's Liege
$4.00
Goblin King
$5.00
Greed
$3.00
Green Mana Battery
$3.00
Helm of Chatzuk
$3.00
Howling Mine
$6.00
Hurkyl's Recall
$3.00
Hurr Jackal
$3.00
Inferno
$4.00
Island Fish Jasconius
$3.00
Island Sanctuary
$3.50
Ivory Tower
$5.00
Jade Monolith
$3.00
Jandor's Saddlebags
$3.00
Jayemdae Tome
$3.50
Kormus Bell
$3.50
Land Tax
$5.00
Leviathan
$5.00
Lifelace
$2.00
Living Artifact
$3.00
Living Lands
$3.00
Lord of Atlantis
$4.00
Lord of the Pit
$6.50
Magical Hack
$3.50
Magnetic Mountain
$3.00
Mahamoti Djinn
$7.00
Mana Clash
$3.00
Mana Flare
$5.00
Mana Short
$4.00
Mana Vault
$4.00
Manabarbs
$3.00
Meekstone
$3.50
Millstone
$5.00
Mind Twist
$3.50
Mishra's War Machine
$3.00
Nether Shadow
$4.00
Nevinyrral's Disk
$7.00
Nightmare
$6.00
Northern Paladin
$5.00
Onulet
$2.50
Personal Incarnation
$3.50
Pirate Ship
$3.00
Power Surge
$3.00
Primal Clay
$3.00
Psionic Entity
$3.00
Purelace
$2.00
Rag Man
$3.00
Rebirth
$3.00
Red Mana Battery
$3.00
Relic Bind
$3.00
Reverse Damage
$4.00
Righteousness
$4.00
Royal Assassin
$12.00
Savannah Lions
$5.00
Shivan Dragon
$14.00
Sleight of Mind
$3.50
Smoke
$3.00
Sorceress Queen
$4.00
Stasis
$4.00
Sunglasses of Urza
$3.00
Sylvan Library
$5.00
Tempest Efreet
$3.00
Tetravus
$3.50
The Hive
$4.00
Thoughtlace
$2.00
Timber Wolves
$3.00
Time Elemental
$5.00
Titania's Song
$3.00
Triskelion
$4.00
Urza's Avenger
$3.50
Verduran Enchantress
$3.50
Volcanic Eruption
$3.50
Warp Artifact
$3.00
Web
$3.00
White Mana Battery
$3.00
Will-O'-The-Wisp
$5.00
Winds of Change
$4.00
Winter Orb
$5.00
Wrath of God
$7.00
Xenic Poltergeist
$3.00
Zombie Master
$4.00
(Uncommons)
Abomination
$1.00
Air Elemental
$1.00
Ali Baba
$0.75
Angry Mob
$0.75
Animate Artifact
$1.00
Animate Dead
$1.00
Ashes to Ashes
$1.00
Ashnod's Battle Gear
$1.00
Backfire
$0.75
Black Knight
$1.50
Black Vise
$1.00
Black Ward
$0.75
Blight
$1.00
Blue Ward
$0.75
Bog Wraith
$0.75
Brass Man
$0.75
Burrowing
$0.75
Carrion Ants
$1.50
Castle
$0.75
Cave People
$0.75
Celestial Prism
$1.00
Channel
$1.00
Circle of Protection: Artifacts
$1.00
Conservator
$1.00
Control Magic
$1.00
Conversion
$1.00
Counterspell
$0.75
Crumble
$0.75
Crystal Rod
$0.75
Cursed Land
$0.75
Cursed Rack
$1.00
Deathgrip
$1.00
Desert Twister
$1.00
Detonate
$0.75
Diabolic Machine
$0.75
Divine Transformation
$1.00
Dragon Whelp
$1.50
Earth Elemental
$0.75
Energy Flux
$0.75
Evil Presence
$0.75
Feedback
$0.75
Fellwar Stone
$1.00
Fire Elemental
$0.75
Flashfires
$1.00
Ghost Ship
$0.75
Glasses of Urza
$0.75
Gloom
$1.00
Goblin Balloon Brigade
$1.00
Green Ward
$0.75
Hurricane
$1.00
Hypnotic Scepter
$2.50
Instill Energy
$0.75
Ivory Cup
$0.75
Junun Efreet
$1.00
Karma
$1.00
Keldon Warlord
$1.00
Killer Bees
$1.50
Kismet
$1.00
Ley Druid
$0.75
Library of Leng
$1.00
Lifeforce
$0.75
Lifetap
$1.00
Lure
$0.75
Mind Bomb
$0.75
Mishra's Factory
$3.00
Oasis
$1.00
Obsianus Golem
$1.00
Orcish Artillery
$0.75
Orcish Oriflamme
$0.75
Ornithopter
$0.75
Osai Vultures
$0.75
Phantasamal Forces
$0.75
Phantom Monster
$0.75
Red Ward
$0.75
Rod of Ruin
$0.75
Scavenging Ghoul
$0.75
Segovian Leviathan
$0.75
Sengir Vampire
$3.50
Serra Angel
$5.00
Shapeshifter
$1.00
Simulacrum
$0.75
Sindbad
$0.75
Siren's Call
$0.75
Soul Net
$0.75
Steal Artifact
$0.75
Stone Giant
$0.75
Strip Mine
$3.00
Swords to Plowshares
$1.00
Tawnos's Wand
$0.75
The Rack
$1.00
Thicket Basilisk
$1.00
Throne of Bone
$0.75
Tsunami
$0.75
Tunnel
$0.75
Uncle Istvan
$0.75
Untamed Wilds
$0.75
Uthden Troll
$1.00
Visions
$0.75
Wall of Air
$0.75
Wall of Bone
$0.75
Wall of Brambles
$0.75
Wall of Dust
$0.75
Wall of Fire
$0.75
Wall of Ice
$0.75
Wall of Stone
$0.75
Wall of Swords
$0.75
Wall of Water
$0.75
Wanderlust
$0.75
Water Elemental
$0.75
Whirling Dervish
$1.00
White Knight
$1.50
White Ward
$0.75
Winter Blast
$1.00
Wooden Sphere
$0.75
(selected commons)
Lightning Bolt
$1.00
---