Have Magic News? Send it to news@pojo.com
Featured Writers
The Dragon's Den
Rumblings From The Ass
The Heretic's Sermon
Through The Portal
Deviations from the Norm
Biographies
"Extended" Warranties
The Grim Tutor
MTG Fan Articles
Single Card Strategy
Deck Tips & Strategies
Tourney Reports
Peasant Magic
Featured Articles
Community
Message Board
Chat
Magic League
Tournament Organizers - Send us your top 8 decklists (constructed tournaments only please) and we will shamelessly plug your site, store, or tournament location with the top 8. We'd like to establish a database that has many top 8 decklists.


Pojo's Magic Price Guide
Chronicles
Chronicles was released in July 1995. There are 125 cards in this set. It contains from Legends; Arabian Nights, Antiquities, and The Dark. A set that made some people happy and others pissed. Chronicles made hard to find cards easily available ... making newer players happy ... and pissing off collector's and prices dropped somewhat. These cards are white bordered.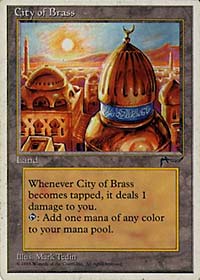 CHRONICLES
Set (125)
$100.00
Booster Box
$120.00
Booster Pack

$3.00

Commons
$.10-$.50
(NOTE: "Frequency" indicates number of appearances of card on printing sheets. An uncommon with a "3" in this field is three times as plentiful as an uncommon marked "1." The lower the Frequency number' the rarer the card. "a/b" indicates two versions of artwork for the card.)
Card
Frequency
Price
(Uncommons)
Abu Jafar
U3
$0.75
Akron Legionnaire
U1
$2.00
Aladdin
U1
$2.00
Angelic Voices
U1
$4.00
Arcades Sabboth
U1
$4.50
Arena of the Ancients
U1
$2.00
Axelrod Gunnarson
U1
$2.50
Ayesha Tanaka
U1
$2.00
Azure Drake
U3
$0.75
Banshee
U3
$0.75
Barl's Cage
U1
$2.50
Beasts of Bogardan
U3
$0.75
Blood Moon
U1
$4.00
Blood of the Martyr
U3
$1.00
Book of Rass
U1
$1.50
Bronze Horse
U1
$2.00
Chromium
U1
$5.00
City of Brass
U1
$8.00
Cocoon
U3
$0.75
Concordant Crossroads
U1
$3.00
Craw Giant
U3
$1.50
Cyclone
U1
$2.50
Dakkon Blackblade
U1
$4.00
Dance of Many
U1
$2.00
Enchantment Alteration
U3
$1.00
Ernham Djinn
U3
$4.00
Fallen Angel
U3
$2.00
Fire Drake
U3
$0.75
Gabriel Angelfire
U1
$3.00
Gauntlets of Chaos
U1
$2.50
Goblin Artisans
U3
$0.75
Hell's Caretaker
U1
$4.50
Horn of Deafening
U1
$2.00
Ivory Guardians
U3
$1.00
Jalum Tome
U1
$2.50
Jeweled Bird
U1
$2.50
Johan
U1
$3.50
Juxtapose
U1
$3.00
Land's Edge
U1
$4.00
Nebuchadnezzer
U1
$4.00
Nicol Bolas
U1
$5.00
Obelisk of Undoing
U1
$2.50
Palladia-Mors
U1
$5.00
Petra Sphinx
U1
$3.00
Primordial Ooze
U3
$1.00
Puppet Master
U3
$1.00
Rabid Wombat
U3
$1.00
Rakalite
U1
$2.00
Recall
U3
$2.00
Revelation
U1
$2.50
Rubinia Soulsinger
U1
$4.00
Safe Haven
U1
$3.00
Sentinel
U1
$2.50
Serpent Generator
U1
$4.00
Shield Wall
U3
$1.00
Shimian Nightstalker
U3
$1.00
Sol'Kanar the Swamp King
U3
$4.50
Stangg
U1
$3.00
Storm Seeker
U3
$1.50
Takklemaggot
U3
$0.75
Teleport
U1
$2.00
The Fallen
U3
$1.50
The Wretched
U1
$4.00
Triassic Egg
U1
$2.00
Vaevictus Asmadi
U1
$5.00
Voodoo Doll
U1
$2.00
Wall of Opposition
U3
$1.00
Wall of Wonder
U3
$1.00
Witch Hunter
U3
$1.00
Xira Arien
U1
$2.50
Yawgmoth Demon
U1
$3.50
(selected commons)
D'Avenant Archer
C3
$0.75
Feldon's Cane
C2
$0.75
---